Plastic Sucks!: How YOU Can Reduce Single-Use Plastic and Save Our Planet (Paperback)
COVID-19 Update
For now, Prince Books intends to remain open. If you would like a book and don't want to come into the store, please call us with your book request and credit card number, (or place order at prince-books.com), tell us that you would like us to bring your purchase out to your car. Park on Martin's Lane next to the back door, and call us so we can run your purchase out to you.
In the meantime we'll be closing daily at 5 p.m. Thank you for your business!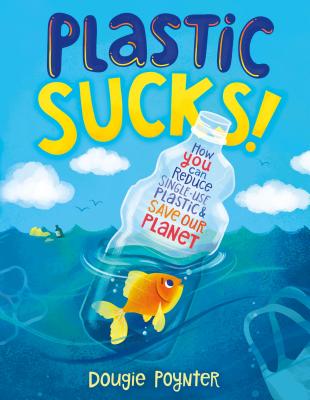 Description
---
How can YOU help save our planet? This awesome and inspiring guide, written by musician and environmental activist Dougie Poynter, will tell you how to get involved in the mission to cut out single-use plastic.
Plastic is everywhere and it sucks. It fills up our oceans, endangers our wildlife and never goes away. So it's time to take action, find ways to cut down our plastic use, and help protect our environment. Together we can make a difference!
From the history of plastic to the effects of plastic on our planet to the innovations in plastic clean up and alternative materials, this book breaks down the plastic problem into easy digestible chapters (including "What's Going On", "Innovations in Cleanup," and "How to Create Change") that are packed with illustrations. And this isn't just a history of what's gone wrong with our environment; it's a handbook on how to change the world for better, empowering you to make everyday choices that help solve the plastic problem once and for all.
Plastic Sucks! How YOU Can Reduce Single-Use Plastic and Save Our Planet shows us how we can all make small changes and become champions for our planet.
About the Author
---
DOUGIE POYNTER is a musician, songwriter, designer and author. Dougie has been obsessed with natural history and dinosaurs from the age of three when he visited the Natural History Museum with his mom. He is passionate about the natural world and a keen conservationist, working with charities such as WWF, Greenpeace and Five Gyres. He is committed to cleaning up the planet and was instrumental in the campaign to ban microplastics in the UK.
Dougie has been the bass player of the band Mcfly since 2003 and, along with bandmate Tom Fletcher, is behind the bestselling picture book series The Dinosaur That Pooped. Illustrated by Garry Parsons, the series has sold more than 1 million copies. Dougie was also a member of the super-group McBusted and in 2011 was the winner of the jungle set show I'm a Celebrity Get Me Out of Here!