The Fear and the Freedom: How the Second World War Changed Us (Paperback)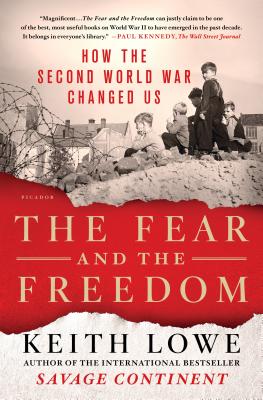 Description
---
Bestselling historian Keith Lowe's The Fear and the Freedom looks at the astonishing innovations that sprang from World War II and how they changed the world.
The Fear and the Freedom is Keith Lowe's follow-up to Savage Continent. While that book painted a picture of Europe in all its horror as World War II was ending, The Fear and the Freedom looks at all that has happened since, focusing on the changes that were brought about because of World War II—simultaneously one of the most catastrophic and most innovative events in history. It killed millions and eradicated empires, creating the idea of human rights, and giving birth to the UN. It was because of the war that penicillin was first mass-produced, computers were developed, and rockets first sent to the edge of space. The war created new philosophies, new ways of living, new architecture: this was the era of Le Corbusier, Simone de Beauvoir and Chairman Mao.
But amidst the waves of revolution and idealism there were also fears of globalization, a dread of the atom bomb, and an unexpressed longing for a past forever gone. All of these things and more came about as direct consequences of the war and continue to affect the world that we live in today. The Fear and the Freedom is the first book to look at all of the changes brought about because of World War II. Based on research from five continents, Keith Lowe's The Fear and the Freedom tells the very human story of how the war not only transformed our world but also changed the very way we think about ourselves.
About the Author
---
Keith Lowe is the award-winning author of Savage Continent: Europe in the Aftermath of World War II, and the critically acclaimed history Inferno: The Fiery Devastation of Hamburg, 1943. He is widely recognized as an authority on the Second World War, and has often spoken on TV and radio, both in Britain and the United States. He was an historical consultant and one of the main speakers in the PBS documentary The Bombing of Germany, which was also broadcast in Germany. His books have been translated into several languages, and he has lectured in Britain, Canada and Germany. He lives in North London with his wife and two kids.
Praise For…
---
"Magnificent… The Fear and the Freedom can justly claim to be one of the best, most useful books on World War II to have emerged in the past decade. It belongs in everyone's library."—Paul Kennedy, The Wall Street Journal
"brilliantly reveals how, when trapped between freedom and fear, people tether their emotional and intellectual states to world events. Lowe's book couldn't be more timely" – Financial Times
"a masterpiece" – Daily Telegraph
"a testament to the convoluted, contradictory and, in Lowe's hands, thoroughly compelling impact of the bloodiest war in human history" – Sunday Times
"This is an important book, impossible to summarise, profound in its humanity, bold in its confrontation of sacred myths." – The Herald

"a very fine work of history" – Literary Review
"Lowe's book is a compelling work of historical scholarship – but, more than that, it is an intimate portrayal of how human beings carry on when their world has changed forever." – New Statesman
"brilliant, myth-busting history" – The Scotsman

"[Lowe's] book is an important and challenging one" – Mail on Sunday
"Lowe has assembled a remarkable chorus of voices and asks the most probing of questions. Their testimony, combined with the author's pointed analysis, elevates a laudable volume into a very readable and startling book." – Guardian
"Keith Lowe's compelling study of the impact of the Second World War over the last seven decades helps explain our world… One of the delights of the book is that it deals with individuals as much as it does big ideas. It is to be enjoyed, even as it illuminates, alarms and provokes." – Prospect