The God Game: A Novel (Paperback)
COVID-19 Update
As we do every year, we will be CLOSED on Easter Sunday.
March 30: In his March 30 press briefing, Governor Northam continues to say that businesses like Prince Books may remain open to customers as long as we practice social distancing. We are currently processing many online, email and phone orders, and we continue to receive boxes from our wholesaler and publishers. You are welcome to request curbside delivery, or you may come into the store. We spray the counter and the doors throughout the day. Please continue to order from us! Thank you for your business.
For now, Prince Books intends to remain open. If you would like a book and don't want to come into the store, please call us with your book request and credit card number, (or place order at prince-books.com), tell us that you would like us to bring your purchase out to your car. Park on Martin's Lane next to the back door, and call us so we can run your purchase out to you.
In the meantime we'll be closing daily at 5 p.m. Thank you for your business!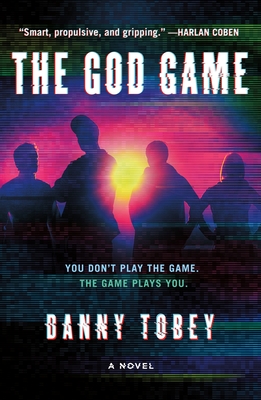 Description
---
"Smart, propulsive and gripping, THE GOD GAME is an ambitious thriller and a terrifying examination of what could--and probably already is--happening in the world of artificial intelligence."—Harlan Coben, #1 New York Times bestselling author of Run Away

A technological thriller with an all-too-believable premise, award-winning author Danny Tobey's The God Game follows five teenagers obsessed with an online video game that connects them to their worst impulses and most dangerous desires.
They call themselves the Vindicators. Targeted by bullies and pressured by parents, these geeks and gamers rule the computer lab at Turner High School. Wealthy bad boy Peter makes and breaks rules. Vanhi is a punk bassist at odds with her heritage. Kenny's creativity is stifled by a religious home life. Insecure and temperamental, Alex is an outcast among the outcasts. And Charlie, the leader they all depend on, is reeling from the death of his mother, consumed with reckless fury.
They each receive an invitation to play The God Game. Created by dark-web coders and maintained by underground hackers, the video game is controlled by a mysterious artificial intelligence that believes it is God. Obey the almighty A.I. and be rewarded. Defiance is punished. Through their phone screens and high-tech glasses, Charlie and his friends see and interact with a fantasy world superimposed over reality. The quests they undertake on behalf of "God" seem harmless at first, but soon the tasks have them questioning and sacrificing their own morality.
High school tormentors get their comeuppance. Parents and teachers are exposed as hypocrites. And the Vindicators' behavior becomes more selfish and self-destructive as they compete against one another for prizes each believes will rescue them from their adolescent existence. But everything they do is being recorded. Hooded and masked thugs are stalking and attacking them. "God" threatens to expose their secrets if they attempt to quit the game. And losing the game means losing their lives.
You don't play the Game. The Game plays you....
About the Author
---
Danny Tobey is a fifth-generation Texan. He went to Harvard College, Yale Law School, and UT Southwestern medical school. Harvard gave Danny the Edward Eager prize "for the best creative writing." He wrote and edited the Harvard Lampoon and was anthologized in The Best of the Harvard Lampoon: 140 Years of American Humor.
Danny's first novel was the sci-fi fantasy thriller The Faculty Club. Danny is a noted expert on Artificial Intelligence. In 2019, the Library of Congress gave Danny the Burton Award for his work on AI and the law.
Praise For…
---
"Tension and turmoil add up to high stakes suspense and a plot that will make you wonder if all this stuff is real. Danny Tobey absolutely kicks butt and takes names in this gem of a thriller." —Steve Berry, New York Times bestselling author of the Cotton Malone series
"Smart, propulsive and gripping, THE GOD GAME is an ambitious thriller and a terrifying examination of what could--and probably already is--happening in the world of artificial intelligence."—Harlan Coben, #1 New York Times bestselling author of Run Away
"The God Game is a fantastic read. I haven't felt this way about a book since Ready Player One. As addicting as any video game I've ever played, I got sucked in from the first page and couldn't put it down. Can't recommend this one enough." —Ben Mezrich, New York Times Bestselling author of Bitcoin Billionaires and Bringing Down The House
"THE GOD GAME is a dark, edgy thriller, populated by a vastly appealing cast of teenage underdogs. Danny Tobey has written an unusually smart and provocative novel, a book full of ideas and heart that feels both fantastical and all-too-real at the same time." —Tom Perrotta, New York Times bestselling author of The Leftovers and Little Children
"What an amazing achievement THE GOD GAME: a gripping page-turner that kept me up late three nights in a row, rooting for the engaging, wisecracking teen heroes; at the same time a terrifying and weirdly persuasive reverse-engineering of the morality of our present cultural moment. Also a moving and thought-provoking commentary on the relationship between parents' pain and children's achievement. Every time I read the news now I keep thinking I see signs of THE GOD GAME being played all around us, until I remember that it isn't real (probably). I couldn't put it down." —Elif Batuman, author of the Pulitzer Prize finalist The Idiot
"A story that keeps the reader in a constant state of suspense, the book is sure to appeal to SF readers, gamers, and anyone else who enjoys a well-plotted, well-told thriller." —Booklist
"Tobey brilliantly captures the immersive, claustrophobic atmosphere of the malign game and its addictive allure for a collection of flawed and needy characters."—The Guardian
"Great characters, a novel concept, and scary set pieces." —Kirkus
"Fans of AI run amok should relish this one." —Publishers Weekly
"...engrossing, hard to put down." —Pittsburgh Post-Republican
"Reading Tobey's stupendous novel is like being a teenager again but with the added thrills and dangers that accost students today." —Country Style