The Essential Path: Overcoming Fear and Finding Freedom in an Ever-Changing World (Paperback)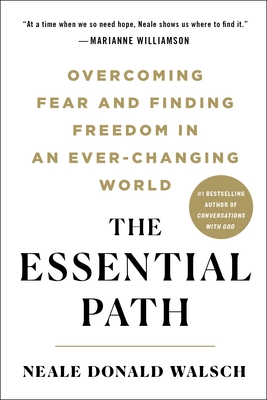 Description
---
"Deep inside you know Who You Truly Are. We all do...We're all just one decision away from The Essential Path. It's a path that could change a world that deeply yearns for a new direction."

Our modern era is plagued by increasing alienation—we are seeing an "us against them" world. Everywhere we turn, we find ourselves divided from each other as never before across political, economic, social, and spiritual lines. We are turning against each other, rather than to each other, just when we need each other the most.

Bestselling author of Conversations with God Neale Donald Walsch offers a radical solution to the growing problem of humanity's alienation. He invites us to question our basic assumptions about ourselves, about each other, about life and how it works, and about God, and to rethink the very definition of humanity. The Essential Path challenges every human to make a Daring Decision—to look at who we are and how we can choose to be, in a planet-altering new way.

With insight and spiritual perceptivity, Walsch peers into the heart of a broken, divided society, prompting us to ask the critical questions that have the power to transform our world. This might just be the most important book you ever read.
About the Author
---
Neale Donald Walsch is the author of over 35 books combining modern-day psychology and practical spirituality. His titles have sold in the millions, and have been translated into 35 languages. He may be reached through CwG Connect, the online platform arising out of his worldwide work surrounding the Conversations with God series of books.
Praise For…
---
"I've never had a conversation with Neale Donald Walsch that didn't expand my thinking and touch my heart, and reading The Essential Path has the same effect. At a time when we so need hope, Neale shows us where to find it."

— Marianne Williamson

"I'm tempted to stand on street corners and hand out this crystal-clear book because it's an answer to our challenging times. Read it immediately—and you will soar with conviction. You may no longer doubt your purpose or your place. You just may make the bravest decision you've ever made."

—Tama Kieves, best-selling author of Thriving Through Uncertainty: Moving Beyond Fear of the Unknown and Making Change Work for You


"Neale Donald Walsch has done it again with a superb book that changes our relationship to self, the earth, and spirit. This essential volume shows us the path forward through our alienation, fear, and division. Written in Neale's simple yet deeply moving style, this book poses both important questions and shares critical answers that guide us to redefine and renew our understanding of what it means to be human, as individuals and as a collective."
—HeatherAsh Amara, author of The Warrior Heart Practice and Warrior Goddess Training