The Best American Nonrequired Reading 2017 (The Best American Series ®) (Paperback)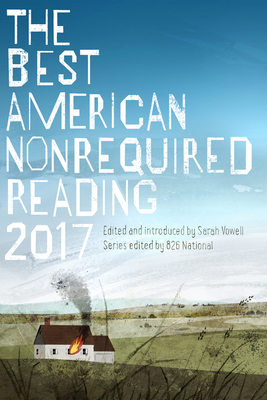 Description
---
"A gift . . . One wonders how the world might be different if works in The Best American Nonrequired Reading were indeed required." —USA Today

Sarah Vowell, author of Lafayette in the Somewhat United States and other best-selling titles "gilded with snark, buoyant on charm" (NPR), worked with the students of  the 826 Valencia writing lab to edit this year's anthology. They compiled new fiction, nonfiction, poetry, comics, and the category-defying gems that have become one of the hallmarks of this lively collection.
About the Author
---
SARAH VOWELL is the author of seven nonfiction books, including Assassination Vacation and Lafayette in the Somewhat United States. An original contributor to McSweeney's, she has volunteered with the various writing centers overseen by 826 National since 2004.  
826 NATIONAL is a family of seven nonprofit organizations dedicated to helping underserved students, ages six through eighteen, with their creative and expository writing skills. They're located in San Francisco.
Praise For…
---
"Turning the pages of The Best American Nonrequired Reading to find Tweets or sheet music creates the kind of unexpected surprise that's often encountered in digital space, but seldom in print…The eclecticism of the sources can be an awakening for the reader who seeks the best writing in books and literary journals…[and] the variety of genres is an apt reflection of contemporary reading culture: not just paragraphs and chapters but expressions in so many different forms…The Best American Nonrequired Reading 2017 lead[s] the reader to a variety of launching points for thinking more about who and where we are."—PopMatters