Scar Tissue (Paperback)
COVID-19 Update
March 30: In his March 30 press briefing, Governor Northam continues to say that businesses like Prince Books may remain open to customers as long as we practice social distancing. We are currently processing many online, email and phone orders, and we continue to receive boxes from our wholesaler and publishers. You are welcome to request curbside delivery, or you may come into the store. We spray the counter and the doors throughout the day. Please continue to order from us! Thank you for your business.
For now, Prince Books intends to remain open. If you would like a book and don't want to come into the store, please call us with your book request and credit card number, (or place order at prince-books.com), tell us that you would like us to bring your purchase out to your car. Park on Martin's Lane next to the back door, and call us so we can run your purchase out to you.
In the meantime we'll be closing daily at 5 p.m. Thank you for your business!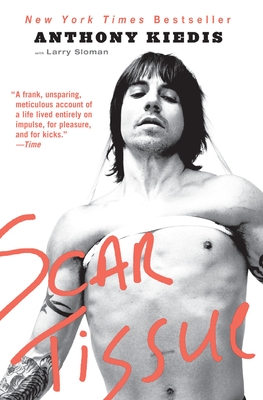 $17.99
Usually Ships in 1-5 Days
Description
---
In this "vivid and inspiring" NYT bestseller (Newsweek), the Red Hot Chili Peppers' lead singer and songwriter shares a searingly honest account of life in the rock scene's fast lane -- from the darkness into the light.
In 1983, four self-described "knuckleheads" burst out of the mosh-pitted mosaic of the neo-punk rock scene in L.A. with their own unique brand of cosmic hardcore mayhem funk. Over twenty years later, the Red Hot Chili Peppers, against all odds, have become one of the most successful bands in the world. Though the band has gone through many incarnations, Anthony Kiedis, the group's lyricist and dynamic lead singer, has been there for the whole roller-coaster ride. In Scar Tissue, Kiedis delivers a compelling life story from a man "in love with everything" -- the darkness, the death, the disease. Even his descent into drug addiction was a part of that journey, another element transformed into art.
Whether he's honoring the influence of the beautiful, strong women who have been his muses or remembering the roaring crowds of Woodstock and the Dalai Lama's humble compound, Kiedis shares a compelling story about the price of success and excess. Scar Tissue is a story of dedication and debauchery, of intrigue and integrity, of recklessness and redemption -- a story that could only have come out of the world of rock.
About the Author
---
Anthony Kiedis grew up in L.A. and formed The Red Hot Chili Peppers in high school. The group's breakthrough album, Blood Sugar Sex Magik, was recorded in 1991; their 1999 album Californication sold over 13 million copies worldwide. Their latest album, By the Way, is one of their best sellers yet. The band toured extensively in 2003. Kiedis lives in the Los Angeles area.