National Geographic Kids Myths Busted!: Just When You Thought You Knew What You Knew... (Paperback)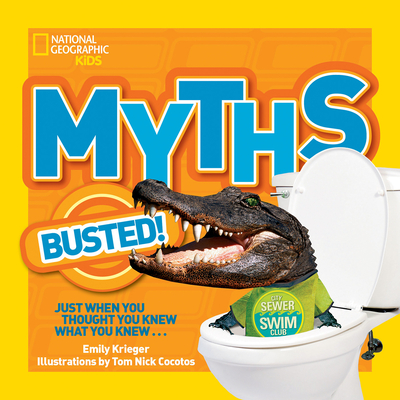 $7.95
Usually Ships in 2-6 Days
Other Books in Series
Description
---
Winner of the Children's Choice Book of the Year Award for grades 5-6

Did you know fortune cookies aren't even found in China? Or that alligators don't actually live in the sewers of New York City? Want to prove it to your friends? This book gives kids the tools to break and bust wild and wacky myths from around the world. These myths reveal a broad range of historical and scientific truths that keep kids learning while interacting with their favorite fictional "facts."
Chock full of colorful photographs and funny text, this book includes hundreds of fascinating facts and interesting tidbits that prove you can't believe everything you're told. Each busted myth also features an explanation of where it originated, which uncovers often surprising historical significance. So next time someone tells you that the average person accidentally ingests 8 spiders each year--don't tell them that if they believe that they are as dumb as an ox--because oxen are actually quite smart.
About the Author
---
Emily Krieger is a writer, an editor, and a fact-checker specializing in science and children's nonfiction. She has fact-checked the capital of Kyrgyzstan and other countries for the National Geographic Bee; amassed amazing tidbits about bugs, birds, and brains for 5,000 Awesome Facts (About Everything!); interviewed scientists about Bigfoot and George Washington's dentures for the book Myths Busted! (named the Fifth to Sixth Grade Book of the Year in the Children's Choice Book Awards); and pondered alien and ancient life while editing Science News for Students. Tom Nick Cocotos has illustrated the Stupid Criminals feature in National Geographic Kids magazine for several years. His illustrations have also appeared in numerous publications such as Sports Illustrated, MAD magazine, The New York Times, and Newsweek, among many more. Cocotos, who is an adjunct professor at FIT in New York, has won numerous awards for his illustrations, including the Gold Addy Award and Folio: magazine's Ozzie Awards (silver and bronze). He has also received accolades from organizations such as American Illustration, the Society of Illustrators of New York, and the Society of Illustrators of Los Angeles.