The First Conspiracy: The Secret Plot to Kill George Washington (CD-Audio)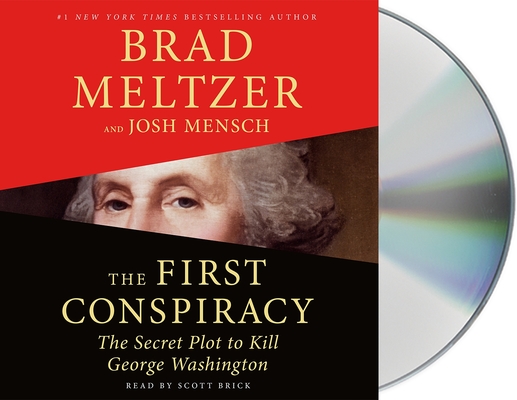 Description
---
This program includes a bonus conversation with the authors.

Taking place during the most critical period of our nation's birth, The First Conspiracy tells a remarkable and previously untold piece of American history that not only reveals George Washington's character, but also illuminates the origins of America's counterintelligence movement that led to the modern day CIA.

In 1776, an elite group of soldiers were handpicked to serve as George Washington's bodyguards. Washington trusted them; relied on them. But unbeknownst to Washington, some of them were part of a treasonous plan. In the months leading up to the Revolutionary War, these traitorous soldiers, along with the Governor of New York, William Tryon, and Mayor David Mathews, launched a deadly plot against the most important member of the military: George Washington himself.
This is the story of the secret plot and how it was revealed. It is a story of leaders, liars, counterfeiters, and jailhouse confessors. It also shows just how hard the battle was for George Washington and how close America was to losing the Revolutionary War.
In this historical masterpiece, New York Times bestselling author Brad Meltzer teams up with American history writer and documentary television producer, Josh Mensch, to unravel the shocking true story behind what has previously been a footnote in the pages of history. Drawing on extensive research, Meltzer and Mensch capture in riveting detail how George Washington not only defeated the most powerful military force in the world, but also uncovered the secret plot against him in the tumultuous days leading up to July 4, 1776.
Praise for The First Conspiracy:
"This is American history at its finest, a gripping story of spies, killers, counterfeiters, traitors—and a mysterious prostitute who may or may not have even existed. Anyone with an interest in American history will love this book."—Douglas Preston, #1 bestselling author of The Lost City of the Monkey God
"A wonderful book about leadership—and it shows why George Washington and his moral lessons are just as vital today. What a book. You'll love it."—President George H.W. Bush
"This is an important book: a fascinating largely unknown chapter of our hazardous beginning, a reminder of why counterintelligence matters, and a great read."—President Bill Clinton
About the Author
---
BRAD MELTZER is the #1
New York Times
bestselling author of
The Escape Artist, The Inner Circle,
and many other bestselling thrillers, as well as the "Ordinary People Change the World" series. He is also the host of the History Channel TV shows
Brad Meltzer's Decoded
and
Brad Meltzer's Lost History,
which he used to help find the missing 9/11 flag that the firefighters raised at Ground Zero.
JOSH MENSCH
is a
New York Times
bestselling author and documentary television producer with a focus on American history and culture. He is coauthor with Brad Meltzer of
The First Conspiracy: the Secret Plot to Kill George Washington
. For television he has written, directed, and been a showrunner on nonfiction series for PBS, the History Channel, National Geographic, and many other networks. He lives in Brooklyn, NY with his wife and children.
Scott Brick first began narrating audiobooks in 2000, and after recording almost 400 titles in five years, AudioFile magazine named Brick a Golden Voice and "one of the fastest-rising stars in the audiobook galaxy." He has read a number of titles in Frank Herbert's bestselling Dune series, and he won the 2003 Science Fiction Audie Award for Dune: The Butlerian Jihad. Brick has narrated for many popular authors, including Michael Pollan, Joseph Finder, Tom Clancy, and Ayn Rand. He has also won over 40 AudioFile Earphones Awards and the AudioFile award for Best Voice in Mystery and Suspense 2011. In 2007, Brick was named Publishers Weekly's Narrator of the Year.
 Brick has performed on film, television and radio. He appeared on stage throughout the United States in productions of Cyrano, Hamlet, Macbeth and other plays. In addition to his acting work, Brick choreographs fight sequences, and was a combatant in films including Romeo and Juliet, The Fantasticks and Robin Hood: Men in Tights. He has also been hired by Morgan Freeman to write the screenplay adaptation of Arthur C. Clarke's Rendezvous with Rama.
Praise For…
---
"Brad Meltzer utilizes his skills as a thriller novelist to great effect in this true story of a plot to kidnap or even kill George Washington in the early years of the American Revolution. Scott Brick adds to the enjoyment with a gripping narration. Mensch and Meltzer's pacing and straightforward writing style adapt well to audio. Brick, in turn, makes the pages come alive. ...This work is an excellent example of the perfect melding of text and narrator." -AudioFile, Earphones Award Winner
"I'd heard about the plot to assassinate George Washington for years, but was stunned that no one had ever gotten to the bottom of it. But that's Brad's gift: unlocking secrets that two centuries of historians couldn't. Reading this was like narrating a thriller — nonstop action, intrigue and suspense." - Scott Brick on narrating The First Conspiracy, AudioFile