Madam: The Biography of Polly Adler, Icon of the Jazz Age (Large Print / Library Binding)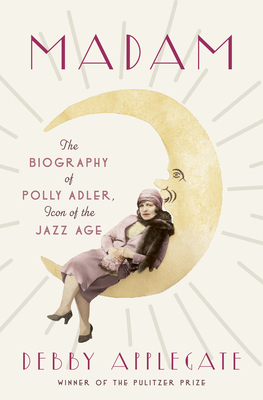 $31.99
Email or call for price.
Description
---
The compulsively readable and sometimes jaw-dropping story of the life of a notorious madam who played hostess to every gangster, politician, writer, sports star and Cafe Society swell worth knowing, and who as much as any single figure helped make the twenties roar--from the Pulitzer Prize-winning author of The Most Famous Man in America. "Applegate's tour de force about Jazz Age icon Polly Adler will seize you by the lapels, buy you a drink, and keep you reading until the very last page.... A treat for fiction and nonfiction fans alike. --Abbott Kahler, New York Times bestselling author (as Karen Abbott) of The Ghosts of Eden Park Simply put: Everybody came to Polly's. Pearl Polly Adler (1900-1962) was a diminutive dynamo whose Manhattan brothels in the Roaring Twenties became places not just for men to have the company of women but were key gathering places where the culturati and celebrity elite mingled with high society and with violent figures of the underworld--and had a good time doing it. As a Jewish immigrant from eastern Europe, Polly Adler's life is a classic American story of success and assimilation that starts like a novel by Henry Roth and then turns into a glittering real-life tale straight out of F. Scott Fitzgerald. She declared her ambition to be the best goddam madam in all America and succeeded wildly. Debby Applegate uses Polly's story as the key to unpacking just what made the 1920s the appallingly corrupt yet glamorous and transformational era that it was and how the collision between high and low is the unique ingredient that fuels American culture.
About the Author
---
DEBBY APPLEGATE is a historian and biographer based in New Haven, CT. Her first book, The Most Famous Man in America: The Biography of Henry Ward Beecher, won the 2007 Pulitzer Prize for biography and was a finalist for the Los Angeles Book Prize and the National Book Critics Circle Award for biography. She is a graduate of Amherst College and was a Sterling Fellow in American Studies at Yale University where she received her Ph.D.