Philadelphia Battlefields: Disruptive Campaigns and Upset Elections in a Changing City (Paperback)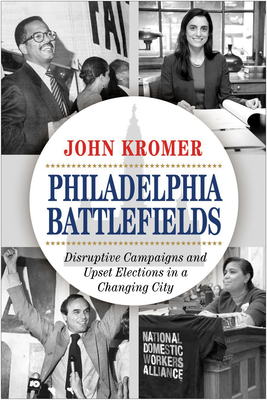 $37.95

Usually Ships in 2-6 Days
Description
---
Should the surprisingly successful outcomes achieved by outsider candidates in Philadelphia elections be interpreted as representing fundamental changes in the local political environment, or simply as one-off victories, based largely on serendipitous circumstances that advanced individual political careers? John Kromer's insightful Philadelphia Battlefields considers key local campaigns undertaken from 1951 to 2019 that were extraordinarily successful despite the opposition of the city's political establishment. 
Kromer draws on election data and data-mapping tools that explain these upset elections as well as the social, economic, and demographic trends that influenced them to tell the story of why these campaign strategies were successful. He deftly analyzes urban political dynamics through case studies of newcomer Rebecca Rhynhart's landslide victory over a veteran incumbent for Philadelphia City Controller; activist Chaka Fattah's effective use of grassroots organizing skills to win a seat in Congress; and Maria Quiñones-Sánchez's hard-fought struggle to become the first Hispanic woman to win a City Council seat, among others. 
Philadelphia Battlefields shows how these candidates' efforts to increase civic engagement, improve municipal governance, and become part of a new generation of political leadership at the local and state level were critical to their successes.
About the Author
---
John Kromer is a planning and development consultant, an instructor in urban development policy at the University of Pennsylvania, former Director of Housing for the city of Philadelphia under Mayor Edward G. Rendell, and a participant in local political campaigns and elections. He is the author of Fixing Broken Cities: The Implementation of Urban Reinvestment Strategies and has written extensively on downtown and neighborhood development issues.
Praise For…
---
"'All politics is local,' Tip O'Neill famously said, and I can think of no better guide to the local politics of Philadelphia than John Kromer. In Philadelphia Battlefields,he takes us through a series of 'disruptive campaigns' and makes a compelling case for what they can teach us today. Kromer balances details that will appeal to political junkies with the wisdom that he has accumulated over the years as one of the city's most distinguished public servants. And his message is clear: politics in Philadelphia will only be as effective as you and I are committed to making it."—Steven Conn, W. E. Smith Professor of History, Miami University, and author of Metropolitan Philadelphia: Living with the Presence of the Past
"Kromer's analysis of Philadelphia's political and electoral dynamics is impressive.  There has been much written and said on the surface about successful and unsuccessful political campaigns by insurgent candidates since the 1950s, but Kromer's linkage of mobilization strategies and activism to the electoral process is new and engaging. The rigor of his analysis of voting data, coupled with his own insights, brings a needed richness to the story. Philadelphia Battlefields should inspire citizens to be more politically aware and engaged in their local and state elections as well as at the grassroots level."—David L. Cohen, Senior Executive Vice President, Comcast Corporation