What Makes Love Last?: How to Build Trust and Avoid Betrayal (Paperback)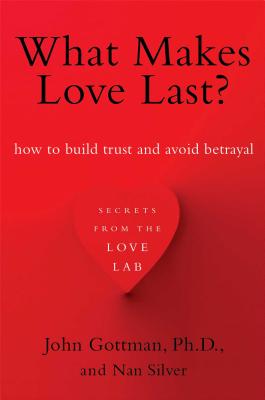 $18.00

Usually Ships in 2-6 Days
Description
---
A world-renowned relationship expert shares his research about love and what it takes to develop a trustful, intimate, and emotionally fulfilling bond.

In this insightful book, celebrated research psychologist and couples counselor John Gottman plumbs the mysteries of love and shares the results of his famous "Love Lab": Where does love come from? Why does some love last, and why does some fade? And how can we keep it alive? Based on laboratory findings, this book shows readers how to identify signs, behaviors, and attitudes that indicate a fraying relationship and provides strategies for repairing what may seem lost or broken.
About the Author
---
John Gottman, PhD has written numerous academic articles and is the author or coauthor of forty books, including the bestselling The Seven Principles for Making Marriage Work. His breakthrough research on marriage and parenting that has earned him numerous major awards, including four National Institute of Mental Health Research Scientist Awards. Currently a professor emeritus of psychology at the University of Washington, Gottman lives on Orcas Island, Washington.
Praise For…
---
"In an easy-to-understand format full of anecdotes, imaginary dialogues, and analogies to game theory, Gottman explains lack of trust in a relationship … The practical tools to evaluate current relationships and step-by-step methods for avoiding betrayal, repairing relationships heading toward crisis, or healing a relationship after a crisis will be useful to couples who want to look honestly at healing chronic hurts and improving the state of their relationship, and are ready for a system to help them."—Publishers Weekly

"Instructional and enlightening..."—Kirkus Reviews