The Ecology Book: Big Ideas Simply Explained (Hardcover)
COVID-19 Update
For now, Prince Books intends to remain open. If you would like a book and don't want to come into the store, please call us with your book request and credit card number, (or place order at prince-books.com), tell us that you would like us to bring your purchase out to your car. Park on Martin's Lane next to the back door, and call us so we can run your purchase out to you.
In the meantime we'll be closing daily at 5 p.m. Thank you for your business!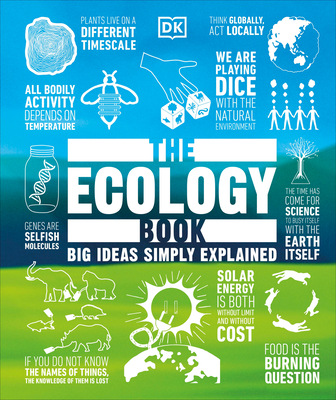 Description
---
Explore ecology in this accessible introduction to how the natural world works and how we have started to understand the environment, ecosystems, and climate change.

Using a bold, graphic-led approach, The Ecology Book explores and explains more than 85 of the key ideas, movements, and acts that have defined ecology and ecological thought. 

The book has a simple chronological structure, with early chapters ranging from the ideas of classical thinkers to attempts by Enlightenment thinkers to systematically order the natural world. Later chapters trace the evolution of modern thinking, from the ideas of Thomas Malthus, Henry Thoreau, and others, right up to the political and scientific developments of the modern era, including the birth of the environmental movement and the Paris Agreement. 

The ideal introduction to one of the most important subjects of our time.