The Campaign for Woman Suffrage in Virginia (Paperback)
COVID-19 Update
March 30: In his March 30 press briefing, Governor Northam continues to say that businesses like Prince Books may remain open to customers as long as we practice social distancing. We are currently processing many online, email and phone orders, and we continue to receive boxes from our wholesaler and publishers. You are welcome to request curbside delivery, or you may come into the store. We spray the counter and the doors throughout the day. Please continue to order from us! Thank you for your business.
For now, Prince Books intends to remain open. If you would like a book and don't want to come into the store, please call us with your book request and credit card number, (or place order at prince-books.com), tell us that you would like us to bring your purchase out to your car. Park on Martin's Lane next to the back door, and call us so we can run your purchase out to you.
In the meantime we'll be closing daily at 5 p.m. Thank you for your business!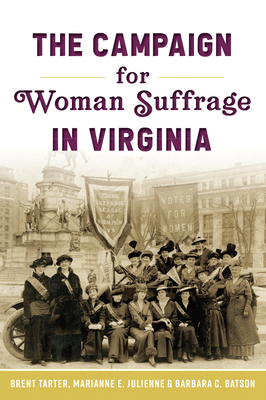 Description
---
In 1920, Virginia's General Assembly refused to ratify the Nineteenth Amendment to the United States Constitution to grant women the vote. Virginia's suffragists lost. Or did they? When the thirty-sixth state ratified the amendment, women gained voting rights across the nation. Virginia suffragists were a part of that victory, although their role has been nearly forgotten. They marched in parades, rallied at the state capitol, spoke to crowds on street corners, staffed booths at fairs, lobbied legislators, picketed the White House and even went to jail. The Campaign for Woman Suffrage in Virginia reveals how women created two statewide organizations to win the right to vote. At the centenary of the movement, these remarkable women can at last be recognized for their important contributions.