88 Days to Kandahar: A CIA Diary (Hardcover)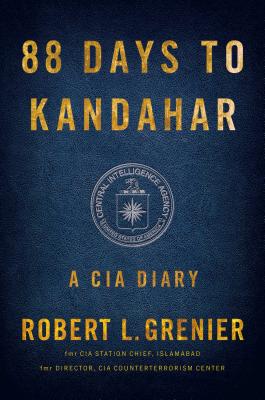 Description
---
The First American-Afghan War, a CIA war, was approved by President George W. Bush and directed by the author, Robert Grenier, the CIA station chief in Islamabad. Forging separate alliances with warlords, Taliban dissidents, and Pakistani intelligence, Grenier launched the "southern campaign," orchestrating the final defeat of the Taliban and Hamid Karzai's rise to power in 88 chaotic days.

In his gripping narrative, we meet: General Tommy Franks, who bridled at CIA control of "his" war; General "Jafar Amin," a gruff Pakistani intelligence officer who saved Grenier from committing career suicide; Maleeha Lodhi, Pakistan's brilliant ambassador to the US, who tried to warn her government of the al-Qa'ida threat; "Mark," the CIA operator who guided Gul Agha Shirzai to bloody victory over the Taliban; General Ashfaq Pervaiz Kayani, a cautious man who became the most powerful man in Pakistan, struggling with Grenier's demands while trying to protect his country; and Hamid Karzai, the puzzling anti-Taliban insurgent, a man of courage, petulance, and vacillating moods.

Grenier's enemies out in front prove only slightly more lethal than the ones behind his own lines. This first war is won despite Washington bureaucrats who divert resources, deny military support, and try to undermine the only Afghan allies capable of winning. Later, as he directed the CIA's role in the Iraq War, Grenier watched the initial victory squandered. His last command was of CIA's CounterTerrorism Center (CTC), as Bush-era terrorism policies were being repudiated, as the Taliban re-emerged in Afghanistan, and as Pakistan descended into fratricidal violence.
About the Author
---
Robert L. Grenier had a much decorated, twenty-seven-year career in the CIA's clandestine service. A renowned Middle East expert, he has been deputy national intelligence officer for the Near East and South Asia. He organized the CIA's Counter-Proliferation Division and headed the CIA's basic training facility, "The Farm." From 1999 to 2002, he was CIA station chief in Islamabad. Subsequently, he was director of the CIA's CounTerterrorism Center, responsible for all CIA counterterrorism operations around the globe. Currently, Grenier is chairman of ERG Partners, a consulting firm to businesses in the intelligence and security sector. Visit Robert-Grenier.com.
Praise For…
---
"Admirably frank . . . [Grenier] has a sweeping story to tell, which he does in a sharp, straightforward style while pausing to let us in on the ad-hoc decision-making of the sometimes absurd world he inhabited. . . . vividly told . . . Grenier's story moves swiftly from the field in Afghanistan to the machinations between Washington and Islamabad."
— The Washington Post

"[An] on-the-ground view of how the early events actually unfolded. . . . Grenier . . . gives a dramatic description of the nail-biting hours in October and early November 2001, when the agency tracked Karzai's progress in the company of anti-Taliban fighters as the enemy was closing in."
— New York Times Book Review

"[An] engrossing, well-written insider's account."
— The Economist

"What makes Grenier's memoir unique is that it depicts the war in real time. . . . The book provides a useful reminder that inevitable victories are actually decided by slim and sometimes arbitrary margins. . . . [Grenier] pulls no punches . . . future spies and policymakers will be well advised to read 88 Days to Kandahar."
— Foreign Policy

"If you want an insider's account of the first American-Afghan War, you can't do better than this; the CIA station chief in Islamabad at the time, Grenier directed the effort. Important reading to understand where we are today."
— Library Journal, Prepublication alert

"This eye-opening account of how things really "work" in the Middle East and in modern war will appeal to general readers and those interested in political science, war memoirs, contemporary battle accounts, American history, Middle Eastern politics, and books about spies/covert operations. Highly Recommended."
— Library Journal

"Grenier delivers an action-packed tale, rich in implication, of the post-9/11 race to unseat the Taliban and rout al-Qaida in Afghanistan. . . . Apart from his taut, well-written account of action on the ground, its heroes mostly gnarly Special Forces troops and spooks, CIA watchers will be fascinated by Grenier's look at the twisted, surprisingly nasty politics within the intelligence community in the age of Bush/Cheney and their appointees, squabbling that makes Afghanistan look tame. A catalog of occasional victories and constant missteps that is eye-opening, illuminating and maddening."
— Kirkus Reviews

"Grenier . . . offers unparalleled insight into the American campaign in Afghanistan with a frank, even-handed assessment of the initial military effort to topple the Taliban. . . . His tone is affable,and his conclusions—many of which run counter to conventional wisdom—are logical and amply demonstrated."
— Publishers Weekly

"88 Days to Kandahar drips with tension and insight. Bob Grenier is the role model for members of the National Clandestine Service. He captures the highs and lows of the spy business with unwavering accuracy. His portrayal of events immediately preceding and following 9/11 is illuminating and gritty."
— Richard Armitage, former Deputy Secretary of State

"A fascinating account of our early post 9/11 days in Afghanistan by one of the CIA's key figures in the drama. A sobering, but must-read primer for the complexities of these tumultuous times."
— General Stanley McChrystal, U.S. Army (Ret.), former commander of NATO and U.S. forces in Afghanistan

"Most often history comes to us through a distant and detached analyst who tries to make sense of an event they did not experience. Here Bob Grenier, the ultimate insider, opens a window of insight into a pivotal time in our own historical consciousness. It is a gripping narrative."
— John J. Hamre, President and CEO, Center for Strategic and International Studies, former Deputy Secretary of Defense

"After more than a decade, the war in Afghanistan is fizzling to an ignominious end, leaving tens of thousands of dead and wounded, a trillion wasted dollars, and a resurgent Taliban poised to return to power. Now Robert Grenier, the CIA's man in Pakistan and Afghanistan at 9/11, gives a dramatic spy's-eye view of how it all began. In captivating detail, Grenier describes his plans for the original limited invasion, his secret negotiations with warlords, how the war might have been prevented, and how "colossal overreach" and the decision "that failure was not an option" led to tragic defeat in America's longest war."
— James Bamford, author of "The Shadow Factory: The Ultra-Secret NSA from 9/11 to the Eavesdropping on America" and other best-selling books on intelligence