One Doctor: Close Calls, Cold Cases, and the Mysteries of Medicine (Hardcover)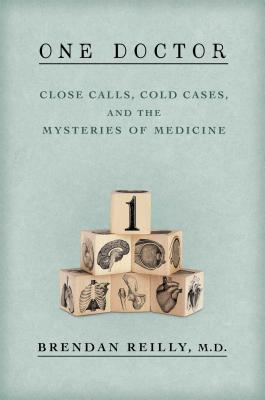 Description
---
An epic story told by a unique voice in American medicine, One Doctor describes life-changing experiences in the career of a distinguished physician.


An epic story told by a unique voice in Ameri­can medicine, One Doctor describes life-changing experiences in the career of a distinguished physi­cian. In riveting first-person prose, Dr. Brendan Reilly takes us to the front lines of medicine today. Whipsawed by daily crises and frustra­tions, Reilly must deal with several daunting challenges simultaneously: the extraordinary patients under his care on the teeming wards of a renowned teaching hospital; the life-threatening illnesses of both of his ninety-year-old parents; and the tragic memory of a cold case from long ago that haunts him still. As Reilly's patients and their families survive close calls, struggle with heartrending decisions, and confront the limits of medicine's power to cure, One Doctor lays bare a fragmented, depersonal­ized, business-driven health-care system where real caring is hard to find. Every day, Reilly sees patients who fall through the cracks and suffer harm because they lack one doctor who knows them well and relentlessly advocates for their best interests.

Filled with fascinating characters in New York City and rural New England—people with dark secrets, mysterious illnesses, impos­sible dreams, and many kinds of courage—One Doctor tells their stories with sensitivity and empathy, reminding us of professional values once held dear by all physicians. But medicine has changed enormously during Reilly's career, for both better and worse, and One Doctor is a cautionary tale about those changes. It is also a hopeful, inspiring account of medicine's poten­tial to improve people's lives, Reilly's quest to understand the "truth" about doctoring, and a moving testament to the difference one doctor can make.
About the Author
---
Dr. Brendan Reilly is executive vice chair of medicine at New York-Presbyterian Hospital/Weill Cornell Medical Center. A widely published clinical researcher and educator, he has served as the chair of medicine and physician-in-chief at Chicago's Cook County Hospital, which, during Reilly's thirteen-year tenure there, was the inspiration (and setting) for the hit NBC television series ER.
Praise For…
---
"A gripping memoir by a doctor's doctor. Reilly's career has taken him from inner city hospitals to remote rural practices. He writes movingly about what it is like on the front lines: the mysteries, the frustration and the rewards of his chosen calling. A must read for the general public and any young person contemplating a career in medicine."
— Abraham Verghese, author of Cutting for Stone

"One Doctor contains the essence of all of it: our humanity and nobility – and why we are all entranced by medical dramas of every kind. A stunning book."
— Christiane Northrup, M.D., ob/gyn physician and author of the New York Times bestsellers, Women's Bodies, Women's Wisdom and

"Extraordinary up-close story-telling. Brendan Reilly takes us bedside to witness the dramas and dilemmas of everyday medicine. One Doctor is a love story about a man and his lifelong passion for the mysteries and miracles of medicine."
— Lisa Sanders, New York Times columnist and author of Every Patient Tells a Story

"Brendan Reilly has written a beautiful book about a forgotten subject – what it means for a physician to truly care for a patient. One Doctor shows why this matters today more than ever before."
— Malcolm Gladwell, author of Blink, The Tipping Point, and Outliers

"Heart-pounding pace and drama … remarkable … His book is about more than the joy of saving lives and the sadness of losing them – it's an intimate exploration of modern medicine and the human condition."

"Reilly provides valuable insight into modern medicine as he relates his most challenging cases up to the present. Gripping and compassionate."

"Reilly's medical narrative nicely intertwines true stories of challenging patients with valuable lessons on doctoring and "patienthood." Empathy and thoughtfulness—One Doctor has oodles of it."

"Compassion, dedication, respect, professional competence, humility. All of these qualities shine through the many stories that make up the bulk of Brendan Reilly's "One Doctor.'' This book is much more than merely a gripping memoir written by an expert storyteller who also happens to be one of the nation's most respected leaders of academic medicine. Spanning a 40-year career, the deftly woven tapestry of anecdotes and scholarly analysis...nimbly alternates between two time frames. Reilly's moving and eloquently written book will be sure to interest not just those working in the medical professions. "One Doctor'' is simply a terrific read."

"Powerful...Many of the diagnoses Dr. Reilly discusses begin as little more than gut feelings. But watching him piece together a diagnosis, scrap by scrap, makes for riveting scenes—part mystery, part thriller. The action is all the more intense because some patients, despite his brilliance, really will die."

"Empathy and thoughtfulness – ONE DOCTOR has oodles of it."

One Doctor is gutsy and heartfelt, a recommended read for anyone interested not only in modern medicine but also one man's professional and personal journey, as instructive as it is inspirational....Reilly's insightful ruminations make for a fascinating read, further strengthened by fast-paced, first-person accounts of challenging cases."
— BookBrowse Editor's Choice

"Dr. Brendan Reilly has done history a true service... He is a good, fluent writer with a fine ear for dialogue, and his excursions from the particulars of his cases to broad medical, social and economic principles are always on point. Dr. Reilly deserves a resounding bravo for telling it like it is (sometimes), like it should be (always) and, increasingly, like it never will be again."