The Breach: Inside the Impeachment and Trial of William Jeffer (Paperback)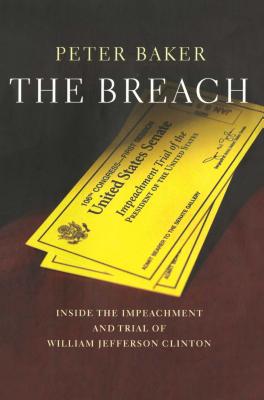 About the Author
---
Peter Baker and Susan Glasser were Moscow bureau chiefs for The Washington Post from January 2001 to November 2004. They are married and live in Washington, D.C., with their son, Theodore.
Praise For…
---
Brill's Content Call him a journalist's journalist....One reason Baker is considered a great reporter is that he never takes no for an answer.



Bob Woodward author of Shadow and All the President's Men The definitive work on Bill Clinton's impeachment and trial -- the how, the why, the full story of one of the most important six months in recent American history. Brilliant, balanced, in-depth reporting with fresh new revelations on all fronts -- the House of Representatives that impeached him, the White House that defended him, and the Senate that acquitted him.



Helen Thomas author of Front Row at the White House The Breach by Peter Baker is a remarkable and gripping account of the behind-the-scenes machinations at the White House and on Capitol Hill during the impeachment process. It's a great contribution to history and beautifully written, and he got people to talk.