Dark Territory: The Secret History of Cyber War (Hardcover)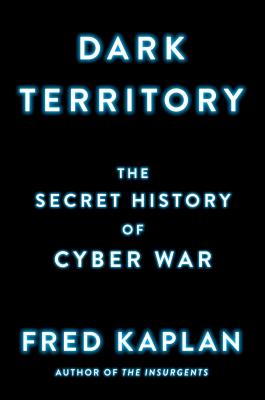 Description
---
"A consistently eye-opening history...not just a page-turner but consistently surprising." —The New York Times

"A book that grips, informs, and alarms, finely researched and lucidly related." —John le Carré

As cyber-attacks dominate front-page news, as hackers join terrorists on the list of global threats, and as top generals warn of a coming cyber war, few books are more timely and enlightening than Dark Territory: The Secret History of Cyber War, by Slate columnist and Pulitzer Prize–winning journalist Fred Kaplan.

Kaplan probes the inner corridors of the National Security Agency, the beyond-top-secret cyber units in the Pentagon, the "information warfare" squads of the military services, and the national security debates in the White House, to tell this never-before-told story of the officers, policymakers, scientists, and spies who devised this new form of warfare and who have been planning—and (more often than people know) fighting—these wars for decades.

From the 1991 Gulf War to conflicts in Haiti, Serbia, Syria, the former Soviet republics, Iraq, and Iran, where cyber warfare played a significant role, Dark Territory chronicles, in fascinating detail, a little-known past that shines an unsettling light on our future.
About the Author
---
Fred Kaplan is the national-security columnist for Slate and the author of five previous books, Dark Territory: The Secret History of Cyber War, The Insurgents: David Petraeus and the Plot to Change the American Way of War (a Pulitzer Prize finalist and New York Times bestseller), 1959, Daydream Believers, and The Wizards of Armageddon. He lives in Brooklyn with his wife, Brooke Gladstone.
Praise For…
---
"A consistently eye-opening history of our government's efforts to effectively manage our national security in the face of the largely open global communications network established by the World Wide Web. . . . The great strengths of Dark Territory . . . are the depth of its reporting and the breadth of its ambition. . . . The result is not just a page-turner but consistently surprising. . . . One of the most important themes that emerges from Mr. Kaplan's nuanced narrative is the extent to which defense and offense are very much two sides of the same coin. . . . The biggest surprise of Dark Territory is the identity of the most prominent domestic heroes and villains in the "secret history." . . . Dark Territory is the rare tome that leaves the reader feeling generally good about their civilian and military leadership."
— The New York Times

"Comprehensively reported history . . . The book's central question is how should we think about war, retaliation, and defense when our technologically advanced reliance on computers is also our greatest vulnerability?"
— The New Yorker

"A book that grips, informs and alarms, finely researched and lucidly related."
— John le Carré

"Dark Territory captures the troubling but engrossing narrative of America's struggle to both exploit the opportunities and defend against the risks of a new era of global cyber-insecurity. Assiduously and industriously reported. . . . Kaplan recapitulates one hack after another, building a portrait of bewildering systemic insecurity in the cyber domain. . . . One of the deep insights of Dark Territory is the historical understanding by both theorists and practitioners that cybersecurity is a dynamic game of offense and defense, each function oscillating in perpetual competition."
— The Washington Post

"An important, disturbing, and gripping history arguing convincingly that, as of 2015, no defense exists against a resourceful cyberattack."
— Kirkus Reviews, starred review

"Dark Territory offers thrilling insights into high-level politics, eccentric computer hackers and information warfare. In 15 chapters—some of them named after classified codenames and official (and unofficial) hacking exercises—Kaplan has encapsulated the past, present and future of cyber war."
— The Financial Express

"The best account to date of the history of cyber war…a human story: a history as revealed by the people involved in shaping it…full of detail, including information that will be new even to insiders."
— The Times Literary Supplement

"Kaplan dives into a topic which could end up being just as transformational to national security affairs as the nuclear age was. The book opens fast and builds from there, providing insights from research that even professionals directly involved in cyber operations will not have gleaned. . . . You will love this book."
— Bob Gourley

"The best available history of the U.S. government's secret use of both cyber spying, and efforts to use its computer prowess for more aggressive attacks. . . . Contains a number of fascinating, little-known stories about the National Security Agency and other secret units of the U.S. military and intelligence community. . . . An especially valuable addition to the debate."
— John Sipher

"Fascinating . . . To understand how deeply we have drifted into legally and politically uncharted waters, read Kaplan's new book, Dark Territory: The Secret History of Cyber War."
— George F. Will

"Deeply sourced. Luckily, he's not slavishly loyal to his sources."
— Pittsburgh Post-Gazette

EDITORS' CHOICE
— New York Times Book Review

"Fred Kaplan's Dark Territory may become a classic reference for scholars and students seeking to understand the complicated people who ushered the United States into the cyber-conflict era and the tough decisions they made."
— Rear Admiral Grace Hopper, Director, Center for Cyber Conflict, US Naval War College

"Chilling . . . Kaplan is one of America's leading writers on national security, and his accounts of cyberattacks are gripping . . . assiduously researched."
— Edward Lucas

"Peppered with many fascinating behind-the-scenes anecdotes . . . A readable and informative history."
— P.W. Singer

A "Hot Type" Book Pick for March 2016
— Vanity Fair

A "Hot Tech Book of 2016"
— Tech Republic

"Worthy of any spy thriller. . . a strong narrative flow . . . impressivelydetailed . . . deeplyrelevant . . . vital."
— The National (UAE)

"Jarring . . . a rich, behind-the-headlines history of our government's efforts to make policy for the jaw-dropping vulnerabilities of our ever-increasing dependence on computers. . . . Kaplan renders a vivid account of the long struggle waged by presidents, bureaucrats, generals, private-sector CEOs, and privacy advocates . . . Kaplan enjoys considerable credibility in defense circles, but he guides us through the dark territory of cyber conflict with an omniscient-narrator voice reminiscent of Bob Woodward's behind-the-scenes books. . . . Today, Kaplan argues, it is precisely U.S. pre-eminence in the network connectivity that makes us the most vulnerable target in the world to cyber sabotage."
— Washington Independent Review of Books

"Pulitzer-prizewinning journalist Fred Kaplan's taut, urgent history traces the dual trajectory of digital surveillance and intervention, and high-level US policy from the 1980s on."
— NATURE

"Dark Territory is a remarkable piece of reporting. Fred Kaplan has illuminated not merely the profound vulnerabilities of our nation to cyber warfare, but why it has taken so long for our policy-makers to translate indifference into concern and concern into action. This is a vitally important book by a meticulous journalist."
— Ted Koppel, author of Lights Out: A Cyberattack, A Nation Unprepared, Surviving the Aftermath

"A fascinating account of the people and organizations leading the way towards a cyber war future."
— Dorothy E. Denning, author of Information Warfare and Security, 1st Inductee, National Cyber Security Hall of Fame

"Everyone has heard the term 'cyber warfare.' Very few people could explain exactly what it means and why it matters. Dark Territory solves that problem with an account that is both fascinating and authoritative. Fred Kaplan has put the people, the technologies, the dramatic turning points, and the strategic and economic stakes together in a way no author has done before."
— James Fallows, national correspondent, The Atlantic

"Revealing. . . . On a vital current-events topic, the well-connected Kaplan's well-sourced history gives readers much to ponder."
— Booklist

"Chilling"
— Haaretz

"A very in-depth work... its content is enlightening and intelligent and the secrets it uncovers are astounding."
— The News Hub

Praise for The Insurgents:

"Thrilling reading . . . A fascinating history . . . The Insurgents proceeds like a whodunit . . . An authoritative, gripping and somewhat terrifying account of how the American military approached two major wars in the combustible Islamic world . . . There is no one better equipped to tell the story than Fred Kaplan, a rare combination of defense intellectual and pugnacious reporter . . . He brings genuine expertise to his fine storytelling."
— NYT Book Review

"One of the very best books ever written about the American military in the era of small wars . . . Fred Kaplan brings a formidable talent for writing intellectual history."
— The New York Review of Books

"Excellent . . . An intellectual thriller."
— Time

"Excellent . . . Poignant and timely . . . A good read, rich in texture and never less than wise."
— Foreign Policy

Praise for Daydream Believers:

"Illuminating . . . incisive."
— The New York Times

"Excellent and devastating . . . Go, please, and buy Kaplan's book. His great work deserves attention and reward."
— Time

"Fred Kaplan has long been one of our most incisive thinkers about strategic issues. In this provocative book, he challenges many of our assumptions about the post-9/11 world and offers a dose of realism about the way the world actually works after the end of the Cold War. It's a bracing read."
— Walter Isaacson

Praise for The Wizards of Armageddon:

"Fascinating . . . It contains much that is not only new but stunning about the nation's official thinking and planning for nuclear war."
— Washington Post Book World

"An absorbing work . . . The story of the remarkable civilians who developed the novel field of nuclear strategy—men such as Bernard Brodie, William Kaufmann, Albert Wohlstetter, and Herman Kahn—is told admirably well. Even those who are familiar with this story will find fascinating details here."
— Foreign Affairs

"[The] definitive intellectual history of early nuclear deterrence."
— Steve Coll, author of Ghost Wars
Coverage from NPR