In a Dark, Dark Wood (Paperback)
COVID-19 Update
March 30: In his March 30 press briefing, Governor Northam continues to say that businesses like Prince Books may remain open to customers as long as we practice social distancing. We are currently processing many online, email and phone orders, and we continue to receive boxes from our wholesaler and publishers. You are welcome to request curbside delivery, or you may come into the store. We spray the counter and the doors throughout the day. Please continue to order from us! Thank you for your business.
For now, Prince Books intends to remain open. If you would like a book and don't want to come into the store, please call us with your book request and credit card number, (or place order at prince-books.com), tell us that you would like us to bring your purchase out to your car. Park on Martin's Lane next to the back door, and call us so we can run your purchase out to you.
In the meantime we'll be closing daily at 5 p.m. Thank you for your business!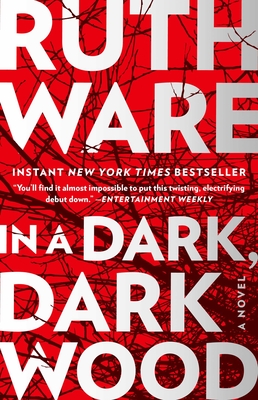 September 2015 Indie Next List
---
"This book has all the trappings of a good English mystery -- an approaching storm, an isolated house, mysterious footprints, and a group of relative strangers all locked in together. Ware's characters are playfully crafted, and just as you think they're becoming a cliche, they do something totally unexpected. In a Dark, Dark Wood is a titillating exploration of the classic tropes, layered with the complex style and hard edges found in the best modern thrillers. Highly recommended!"
— Kelsey Myers (E), Old Firehouse Books, Fort Collins, CO
Description
---
*AUTHOR OF THE WOMAN IN CABIN 10 and THE LYING GAME
*INSTANT NEW YORK TIMES, USA TODAY, AND LOS ANGELES TIMES BESTSELLER
*SOON TO BE A MAJOR MOTION PICTURE

An NPR Best Book of the Year * An Entertainment Weekly Summer Books Pick * A Buzzfeed "31 Books to Get Excited About this Summer" Pick * A Publishers Weekly "Top Ten Mysteries and Thrillers" Pick * A Shelf Awareness Best Book of the Year * A BookReporter Summer Reading Pick * A New York Post "Best Novels to Read this Summer" Pick * A Shelf Awareness "Book Expo America 2015 Buzz Book" Pick

What should be a cozy and fun-filled weekend deep in the English countryside takes a sinister turn in Ruth Ware's suspenseful, compulsive, and darkly twisted psychological thriller.

Sometimes the only thing to fear…is yourself.

When reclusive writer Leonora is invited to the English countryside for a weekend away, she reluctantly agrees to make the trip. But as the first night falls, revelations unfold among friends old and new, an unnerving memory shatters Leonora's reserve, and a haunting realization creeps in: the party is not alone in the woods.
About the Author
---
Ruth Ware worked as a waitress, a bookseller, a teacher of English as a foreign language, and a press officer before settling down as a full-time writer. She now lives with her family in Sussex, on the south coast of England. She is the #1 New York Times and Globe and Mail (Toronto) bestselling author of In a Dark, Dark Wood, The Woman in Cabin 10, The Lying Game, The Death of Mrs. Westaway, and The Turn of the Key. Visit her at RuthWare.com or follow her on Twitter @RuthWareWriter.
Praise For…
---
I started IN A DARK, DARK WOOD on an airplane, kept dipping into it whenever I was left alone, devoured another big chunk on the flight home, and after that surrendered myself to it until the last revelation had bloomed, the final surprise had exploded, and the bittersweet conclusive turn had folded the final page. Ruth Ware has written an exciting, and in fact amazing book that never stops circling around behind the reader and clapping its cold hands over her eyes.
— Peter Straub, New York Times bestselling author

I raced through this, totally unable to put it down...Dark, smart and compulsive.
— Nicci Cloke, author of Lay Me Down

"So gripping. So glad my hen days are behind me. It's going to be huge."
— Tamar Cohen, author of Dying for Christmas and The Broken

"The next Girl on the Train…Ware hews [close] to the new genre of twisty-mystery women's books."
— Vulture

"Ware slowly unspools the mystery, setting a truly spooky scene … with a constant undercurrent of danger. Read it on adark and stormy night—with all the lights on."
— Kirkus Reviews

"Who pulls a gun at a bachelorette party? The answers are unveiled with Gillian Flynn-style trickery."
— O Magazine

"Likely to be the next Gone Girl."
— Elizabeth Willse

"Haunting."
— Style Boston

"Eerie and mysterious!"
— EBookClassics

"An English psychological thriller...compared to Gone Girl and Girl on the Train."
— Steve Bennett

"[In a Dark, Dark Wood] will appeal to fans of Gillian Flynn's Gone Girl and Paula Hawkins's The Girl on the Train."
— Publisher's Weekly

"If the premise might be the sort that Agatha Christie would have toyed with had she been a 21st-century graduate, Ware's analysis of the power-games some women revel in – and the toxicity in the undertow of some female friendships – is more reminiscent of Sophie Hannah, Christobel Kent, or even Gillian Flynn and Harriet Lane."
— Patricia Nicol

"In a Dark, Dark Wood packs a noirish punch that would make the Queen of Crime herself proud."
— Bustle

"[In a Dark, Dark Wood] mixes tropes popularized by such suspense novels as S.J. Watson's Before I Go to Sleep and Gillian Flynn's Gone Girl… with Agatha Christie touches. Ware writes with verve and energy, building up the suspense and keeping the pages flying."
— Library Journal

"Ware's debut novel sets the stage for her to become a household name… Engaging, suspenseful and mysterious."
— RT Book Reviews

"Just try to guess how sinister this plot can get (hint: VERY)."
— Marie Claire

"You'll find it almost impossible to put this twisting, electrifying debut down...[The] foggy atmosphere and chilling revelations will leave you breathless."
— Entertainment Weekly

"WARNING: This book is hot. Do not pick it up late at night or if you are in a dark, dark wood...Ruth Ware has a gift. This British author's first foray into fiction is a hit…it delivers a punch and keeps you guessing—an ideal August psychodrama that reminds us why mysteries remain such fun—except at night."
— The New York Journal of Books

"An enchantingly unsettling thriller with mysterious characters and a classically spooky setting."
— Shelf Awareness

"The best thing about In A Dark, Dark Wood is the eerie atmosphere it creates for this ill-fated weekend, never overwrought, just ominous enough, the glass house where the guests are trapped 'dark and silent, blending into the trees, almost invisible.'"
— USAToday.com

"The pulse-quickening plot of In a Dark, Dark Wood by Ruth Ware will keep you up until the small hours."
— Good Housekeeping, UK

"Ruth Ware's stunning first novel (catch it before the inevitable film) digs into all the hidden horrors of female 'friendship'; suddenly, the old playground secrets come slithering out."
— Saga, UK

"A sinister mood lurks in [In a Dark, Dark Wood]."
— Elle Magazine, UK