Tales and Poems (Hardcover)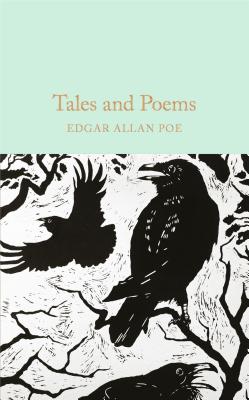 Description
---
Designed to appeal to the book lover, the Macmillan Collector's Library is a series of beautifully bound pocket-sized gift editions of much loved classic titles. Bound in real cloth, printed on high quality paper, and featuring ribbon markers and gilt edges, Macmillan Collector's Library are books to love and treasure.
This companion volume to the Tales of Mystery and Imagination contains Edgar Allan Poe's best-known poetry, and a selection of his very best stories (many of which originate in his 1840s Tales of the Grotesque and Arabesque), along with his finest tales from the last decade of his tragically short life.
Many of these stories and poems tell of the familiar Poe themes of murder, obsession and love, but this volume also contains many overlooked tales of the fantastic, black comedies, parodies and hoaxes, such as 'The Unparalleled Adventure of Hans Pfall', 'Mesmeric Revolution', 'Hop-Frog', and 'The Imp of the Perverse'.
With an afterword by David Pinching.
Included in this edition:
The Tales
Metzengerstein
The Visionary or the Assignation
Morella
King Pest
The Unparalleled Adventure of One Hans Pfaall
Berenice
Mystification
How to Write a Blackwood Article
A Predicament
The Man that was Used Up
William Wilson
Eleonora
The Island of the Fay
The Balloon Hoax
The System of Dr Tarr and Professor Fether
Mesmeric Revelation
A Tale of the Ragged Mountains
The Spectacles
The Imp of the Perverse
The Sphinx
The Domain of Arnheim or The Landscape Garden
Von Kempelen and His Discovery
X-ing a Paragrab
Hop-Frog
The Poems
The Raven
Lenore
Hymn
A Valentine
The Coliseum
To Helen
To —
Ulalume
The Bells
An Enigma
Annabel Lee
To My Mother
The Haunted Palace
The Conqueror Worm
To Frances S. Osgood
To One in Paradise
The Valley of Unrest
The City in the Sea
The Sleeper
Silence
A Dream within a Dream
Dream-Land
To Zante
Eulalie
Eldorado
Israfel
For Annie
To —
Bridal Ballad
To F—
About the Author
---
Edgar Allan Poe (January 19, 1809 - October 7, 1849) was an American author and poet; his short stories include "The Fall of the House of Usher," "The Murders in the Rue Morgue," "The Pit and the Pendulum," and "The Tell-Tale Heart."