Photography Exposure: 9 Secrets to Master The Art of Photography Exposure in 24h or Less (Paperback)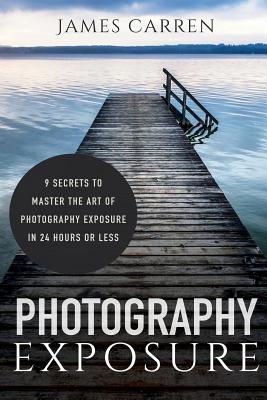 $9.95
Usually Ships in 2-6 Days
Description
---
Learn How to Take STUNNING Photos Effortlessly
Ever wonder what exposure is? Well, this book will make it all clear. It will also teach you how to make a proper exposure time and time again.
Here Is A Preview Of What You'll Learn...
A general overview of what exposure is
The components that it's made up of, being: ISO, Shutter Speed, and Aperture.
ISO: the speed at which light is allowed into the camera
Shutter Speed: The amount of time that light is allowed into the camera
How much light is coming into the lens
I also explain how to make proper use of them, and how they work, being systems based on fractions
I explain how aperture controls depth of field, and the concept of depth of field
Camera modes can help you figure out where you need to be with your exposure. I explain the four most common and their uses, as well as the concept of equivalent exposure.
Finally, if you do need to fix your exposure for any reason, I give tips for both under and overexposure.
This book will give you a rounded and complete idea of how to control exposure. The book isn't DSLR or analog specific, and covers aspects of both. It explains the three components to exposure, which are ISO, Aperture, and Shutter Speed. Concepts such as depth of field and a quick overview of Ansel Adams' Zone System are also covered. The focus is mainly on how to get a great exposure from the start, but there are also tips on how to fix an over or underexposed photo. At the end of the book, you should feel more at ease with your camera, and be able to take a technically solid photograph.
Simply scroll back up the page and click the "buy" button to get your own copy today
------------------
Tags: photography, photoshop, photography books, photography magazine, photoshop cc, photo books, photoshop cs6, photography for dummies, photography for beginners, photography business, photography compostion, photography for kids, photography coffee table books, photography lighting, dslr, photography composition, landscape photography, darkroom photography, photography for beginners, photography lighting, digital photography for beginners, digital photography, dslr photography for beginners, portrait photography, dslr photography
About the Author
---
"A picture is worth a thousand words" In his books, James Carren provides a wealth of knowledge in the areas of art and photography. Unlike other photography guides, his content focuses on being easily implementable, as well as easy to understand. So instead of reading "over-hyped" low quality photography content that provides little to no value, you'll get quality actionable information that can be immediately implemented to take your photography skills to the next level. When not writing, James likes to read, go on bike rides, and explore the different parts of the world with his camera.