365 Days in France Picture-A-Day Wall Calendar 2019 (Calendar)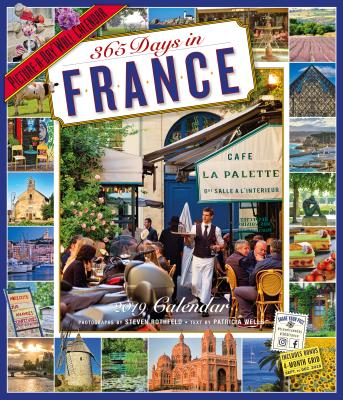 Description
---
What is the world's #1 tourist destination? Easy: France, to the tune of 79 million visitors annually. Now in its 25th spectacular year of strong sales and sell-through, 365 DAYS IN FRANCE elevates the Francophile experience in hundreds of full-color photographs by Steven Rothfeld, with text by travel expert Patricia Wells. There's something for everyone: The history-rich city of Lyon lures gourmets from around the globe with its delectable local truffles and chocolates. Surfers gather on the wind-whipped beaches of the Basque region. Oh, and we'll always have Paris—its monumental museums, its bustling cafes,  and, off the tourist path, its quiet, hidden spaces of respite: a seat on the Quays along the Seine, a shady tree in the Jardin Luxembourg. 
 
About the Author
---
Patricia Wells, for more than two decades the restaurant critic for The International Herald Tribune, is the author of the award-winning Bistro Cooking, as well as more than a dozen other books. She also runs a successful cooking school in both Paris and Provence, where she and her husband have lived for more than 30 years.
Steven Rothfeld has been a contributing photographer for European Travel & Life and a contributor to Bon Appetit and Travel & Leisure. Besides his own French Dreams, he is the photographer for such books as Entrez, and Patricia Wells's Trattoria. He is also the photographer for the 365 Days in France Picture-a-Day calendar with text by Patricia Wells, and the 365 Days in Italy Picture-a-Day calendar with text by Patricia Schultz.