Reaching for the Moon: The Autobiography of NASA Mathematician Katherine Johnson (Hardcover)
COVID-19 Update
As we do every year, we will be CLOSED on Easter Sunday.
March 30: In his March 30 press briefing, Governor Northam continues to say that businesses like Prince Books may remain open to customers as long as we practice social distancing. We are currently processing many online, email and phone orders, and we continue to receive boxes from our wholesaler and publishers. You are welcome to request curbside delivery, or you may come into the store. We spray the counter and the doors throughout the day. Please continue to order from us! Thank you for your business.
For now, Prince Books intends to remain open. If you would like a book and don't want to come into the store, please call us with your book request and credit card number, (or place order at prince-books.com), tell us that you would like us to bring your purchase out to your car. Park on Martin's Lane next to the back door, and call us so we can run your purchase out to you.
In the meantime we'll be closing daily at 5 p.m. Thank you for your business!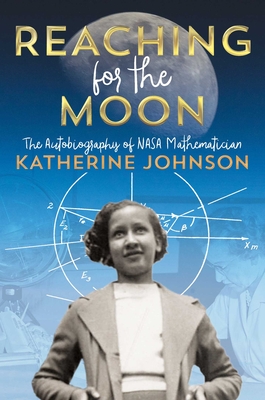 Description
---
A Kirkus Reviews Best Middle Grade Book of 2019

"This rich volume is a national treasure." —Kirkus Reviews (starred review)
"Captivating, informative, and inspiring…Easy to follow and hard to put down." —School Library Journal (starred review)

The inspiring autobiography of NASA mathematician Katherine Johnson, who helped launch Apollo 11.

As a young girl, Katherine Johnson showed an exceptional aptitude for math. In school she quickly skipped ahead several grades and was soon studying complex equations with the support of a professor who saw great promise in her. But ability and opportunity did not always go hand in hand. As an African American and a girl growing up in an era of brutal racism and sexism, Katherine faced daily challenges. Still, she lived her life with her father's words in mind: "You are no better than anyone else, and nobody else is better than you."

In the early 1950s, Katherine was thrilled to join the organization that would become NASA. She worked on many of NASA's biggest projects including the Apollo 11 mission that landed the first men on the moon.

Katherine Johnson's story was made famous in the bestselling book and Oscar-nominated film Hidden Figures. Now in Reaching for the Moon she tells her own story for the first time, in a lively autobiography that will inspire young readers everywhere.
About the Author
---
Katherine Johnson (1918–2020) was a former NASA mathematician whose work was critical to the success of many of their initiatives, including the Apollo program and the start of the Space Shuttle program. Throughout her long career she received numerous awards, including the nation's highest civilian award, the Presidential Medal of Freedom, from President Barack Obama.
Praise For…
---
* "Johnson artfully weaves in the heart of how African American communities have survived and advanced—through "self-help and sacrificing" for the next generation. Her writing style is comfortable and conversational, like a visit over tea that you wish would never end. From a long-lived American legend, this rich volume is a national treasure."
— Kirkus Reviews, starred review

* "Johnson's story is captivating, informative, and inspiring. She neatly and accurately weaves in significant historical events that had profound effects on our country and the African American community, including the murder of Emmett Till, lunch counter sit-ins, and school integration. Larger ideas such as white supremacy are broken down with ease for younger readers. . . . Johnson's story is easy to follow and hard to put down. Highly recommended for purchase in any school library."
— School Library Journal, starred review

"[Johnson's] loose narrative style feels conversational, which will draw in readers, and an interesting afterword compares the movie Hidden Figures to her actual experience. . . . Kids will be excited to learn more about her journey."
— Booklist

"Alternately warmly personal and coolly observant, Johnson is always clear in her explanations. Black-and-white photos illustrate this highly accessible memoir by a groundbreaking woman."
— Publishers Weekly

"In this most authentic, highly personal account, Katherine writes her own story at the age of 100! . . . Katherine's intelligent, softly confident voice helps readers get to know her personally. Johnson makes her own story available for tweens, hoping to inspire the next generation to always do their best."
— School Library Connection

"Johnson's writing is clear, warm, and candid, and she smoothly weaves in details about Plessy v. Ferguson, the Ku Klux Klan, Emmett Till, etc., to give context for her—and her family's—personal experiences with segregation and racism. Humble and inspiring."
— The Horn Book