The Waiting Place: When Home Is Lost and a New One Not Yet Found (Hardcover)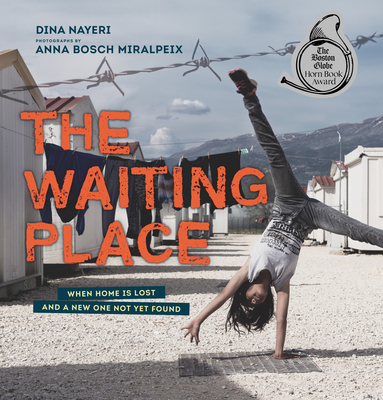 Description
---
An unflinching look at ten young lives suspended outside of time—and bravely proceeding anyway—inside the Katsikas refugee camp in Greece.

Every war, famine, and flood spits out survivors.

The United Nations High Commissioner for Refugees (UNHCR) cites an unprecedented 79.5 million forcibly displaced people on the planet today. In 2018, Dina Nayeri—a former refugee herself and the daughter of a refugee—invited documentary photographer Anna Bosch Miralpeix to accompany her to Katsikas, a refugee camp outside Ioannina, Greece, to record the hopes and struggles of ten young Farsi-speaking refugees from Iran and Afghanistan. "I wanted to play with them, to enter their imagined worlds, to see the landscape inside their minds," she says. Ranging in age from five to seventeen, the children live in partitioned shipping-crate homes crowded on a field below a mountain. Battling a dreary monster that wants to rob them of their purpose, dignity, and identity, each survives in his or her own special way.

The Waiting Place is an unflinching look at ten young lives suspended outside of time—and bravely proceeding anyway. Each lyrical passage leads the reader from one story to the next, revealing the dreams, ambitions, and personalities of each displaced child. The stories are punctuated by intimate photographs, followed by the author's reflections on life in a refugee camp. Locking the global refugee crisis sharply in focus, The Waiting Place is an urgent call to change what we teach young people about the nature of home and safety.
About the Author
---
Dina Nayeri is a former refugee and the author of the adult title The Ungrateful Refugee, a finalist for the Los Angeles Times Book Prize and the Kirkus Prize. Her work has been published in more than twenty countries and in The O. Henry Prize Stories, The Best American Short Stories, the New York Times, and many other publications. Of her work with Anna Bosch Miralpeix for The Waiting Place, she says, "Each morning we set off, me with my notebook, she with her camera and tripod, to see these brave little people fighting back against the waiting place—the monster that wants to get inside you, to change you." Dina Nayeri lives in Paris.

Anna Bosch Miralpeix is a documentary photographer whose projects include the award-winning Bubble Beirut. A graduate of the Institute of Photographic Studies of Catalonia, she is also a teacher and visual project developer. Anna Bosch Miralpeix lives in Barcelona.
Praise For…
---
The stories are infused with empathy and understanding. . . Nayeri's writing and Miralpeix's photographs put faces on the immigration and forced migration crisis in the world. . . this is a book to be read and discussed.
—School Library Connection (starred review)

An important nonfiction tool in social emotional learning to draw attention to the harsh realities facing refugee children around the world.
—School Library Journal (starred review)

The afterword by Nayeri, herself a former child refugee from Iran forced to wait for resettlement, stresses the importance of centering our common humanity, calling on governments and readers to act. . . A window into life in a refugee camp.

—Kirkus Reviews

An unflinching look at the lives of a group of refugee children from Afghanistan and Iran. . . Sparse text combined with Miralpeix's arresting full-page color photographs intimately capture the kids' daily lives. . . . For American readers, this moving look at these young people and their hopes and dreams could lead to greater understanding and empathy for all displaced youth.

—Booklist

In this powerful photo-essay, the Waiting Place is the Katsikas refugee camp in Greece. . . the strength of the volume is its focus on real children, including five-year-old Matin from Afghanistan, his friends Ahmad and Hashmat, and his ten-year-old sister Mobina and her friends. Both text and photos compassionately humanize young refugees. . . readers will come away with a deeper understanding of the refugee crisis.
—The Horn Book

Photographs by Anna Bosch Miralpeix form the illustration for what becomes a tender but sobering account of the daily routines for children who have fled Iran and Afghanistan. . . . In an impassioned afterword, Ms. Nayeri implores adult readers who have shared the book with children to do more to alleviate the suffering of people around the world who have been cruelly exiled to places not of their choosing.
—The Wall Street Journal

Poetic and dreamlike, urgent and sobering, The Waiting Place offers an intimate and unflinching look into a refugee camp where displaced children live in makeshift homes made out of shipping containers, waiting to be released into a new place and life. At once a story, a historical record, and a call to action, this haunting and essential book bears witness to one of the great humanitarian issues of our times.

—Catherine Chung, author of Forgotten Country and The Tenth Muse

Bosch Miralpeix's photographs provide an intimate glimpse of the camp and its quarters. . . the focus on children's daily life grounds the volume, offering rich conversation starters about refugee experiences and mass displacement.
—Publishers Weekly

Dina Nayeri — herself a former refugee — takes a simple, stunning idea, a tour of the Katsikas refugee camp in Greece, and turns it into both a poetic essay on those lost in limbo and individual portraits of the young people there hoping for safety, freedom and a chance to begin living ordinary lives again.
—The Virginian Pilot