She Represents: 44 Women Who Are Changing Politics . . . and the World (Library Binding)
Holiday Hours and New Hours in 2022
Thank you for your support this year!
Beginning Jan. 3 Prince Books will open one hour later at 10 am Mon-Sat. and 11 am Sunday.
January 10, 2022: WE ARE HIRING. PLEASE SEE JOB DESCRIPTION BELOW AND CLICK pdf AT THE BOTTOM FOR EMPLOYMENT APPLICATION
Application must be filled out by hand and returned to the bookstore in person.
EMPLOYMENT APPLICATION BELOW:
High school degree mandatory; at least some college preferred.
This job is people oriented but also extremely detail oriented! We process a lot of special and online orders and have thousands of inventory records. Strict adherence to our process is important to keep the store operating smoothly.
Responsibilities include, but are not limited to:
Ensuring that all customers, whether in store, over the phone or online have a positive shopping experience
Operating our cash registers efficiently and accurately
Creating and maintaining displays; shelving books and maintaining good section organization
Receiving and returning shipments; maintaining an accurate physical inventory
Processing online orders for store pickup, curbside pickup, and shipping
Standing/walking is constantly required
Lifting of books and boxes is constantly required
Basic store maintenance including taking out trash and boxes, washing door windows, and dusting
Must be comfortable learning and working with a variety of software, including point of sale/inventory control system, ecommerce and shipping programs
Must be able to work in a team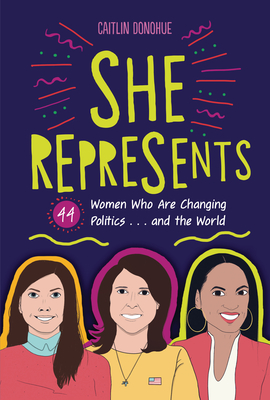 $37.32
Email or call for price.
Description
---
Whichever side of the political aisle you lean toward, it can seem like the only people in power are white men. But the balance is beginning to tip. Women are being elected at record rates and government is beginning to more accurately reflect the people it represents.

Read these profiles of forty-four women in leadership from both sides of the US political spectrum and from around the world to learn about their paths to power, their achievements and missteps, and their lasting legacies. Their stories teach us about the segments of society they represent through both their biographies and their actions in voting and policy decisions.

This book will show you what the road to power looks like for women in modern times. By showing up and representing women in the decisions that make or break a country, these leaders pave the way for future female politicians. Draw inspiration from these groundbreaking women to make a difference in your own world.In a complicated political era when the United States feels divided, this book celebrates feminism and female contributions to politics, activism, and communities. Each of the forty-four women profiled in this illustrated book has demonstrated her capabilities and strengths in political and community leadership and activism, both in the United States and around the world. Written in an approachable, journalistic tone and rounded out by beautiful color portraits, history, key political processes, terminology, and thought-provoking quotes, this book will inspire and encourage women everywhere to enact change in their own communities and to pursue opportunities in public affairs.
Women profiled include:
Stacey Abrams
Jacinda Ardern
Elaine Chao
Hillary Clinton
Tatiana Clouthier
Susan Collins
Carmen Yul n Cruz Soto
Sharice Davids
Wendy Davis
Leila de Lima Betsy
DeVos Mar a
Elena Durazo
Dianne Feinstein
Marielle Franco
Kirsten Gillibrand
Deb Haaland
Nikki Haley
Sarah Hanson-Young
Kamala Harris
Mazie Hirono
Katr n Jakobsd ttir
Pramila Jayapal
Andrea Jenkins
Amy Klobuchar
Barbara Lee
Mia Love
Sanna Marin
Martha McSally
Angela Merkel
Lisa Murkowski
Eleanor Holmes Norton
Alexandria Ocasio-Cortez
Ilhan Omar
Sarah Palin
Nancy Pelosi
Danica Roem
Jeanne Shaheen
Elise Stefanik
Rashida Tlaib
Camila Vallejo Dowling
Elizabeth Warren
Maxine Waters
Gretchen Whitmer
Sahle-Work Zewde
A timely introduction for budding feminists.--Booklist
T]his richly diverse and well-sourced work is conversational and lively. . . . A must-have title.--Kirkus Reviews