The Little Ice Age: How Climate Made History 1300-1850 (Paperback)
COVID-19 Update
For now, Prince Books intends to remain open. If you would like a book and don't want to come into the store, please call us with your book request and credit card number, (or place order at prince-books.com), tell us that you would like us to bring your purchase out to your car. Park on Martin's Lane next to the back door, and call us so we can run your purchase out to you.
In the meantime we'll be closing daily at 5 p.m. Thank you for your business!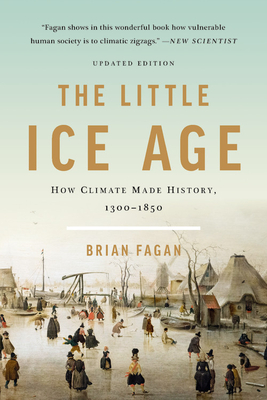 Description
---
The groundbreaking history of how climate change transformed Europe and the world, from a renowned archaeologist -- updated with a new preface on the latest climate research

The Little Ice Age tells the fascinating story of the turbulent, unpredictable, and often very cold years of modern European history. Using sources ranging from the dates of long-ago wine harvests and the business records of medieval monasteries to modern chemical analysis of ice cores, renowned archaeologist Brian Fagan reveals how a 500-year cold snap began in the fourteenth century. As Fagan shows, the increasingly cold and stormy weather dramatically altered fishing and farming practices, and it shaped familiar events, from Norse exploration to the settlement of North America, from the French Revolution to the Irish potato famine to the Industrial Revolution.

Now updated with a new preface discussing the latest historical climate research, The Little Ice Age offers deeply important context for understanding today's age of global warming. As the Little Ice Age shows, climate change does not come in gentle, easy stages, and its influence on human life is profound.
About the Author
---
Brian Fagan is Emeritus Professor of Anthropology at the University of California, Santa Barbara. A former Guggenheim Fellow, he has written many internationally acclaimed popular books about archaeology, including The Little Ice Age, The Great Warming, and The Long Summer. He lives in Santa Barbara, California.
Praise For…
---
"Fagan shows in this wonderful
book how vulnerable human society is to climatic zigzags."—New Scientist

"Even without the contemporary
relevance lent the book by the specter of global warming, The Little Ice Age
would be an engrossing historical volume."—South Florida Sun-Sentinel

"The Little Ice Age
could do for the historical study of climate what Foucault's Madness and
Civilization did for the historical study of mental illness: make it a
respectable subject for scholarly inquiry."—Scientific American

"A nimble, lively, provocative
book."—Booklist

"[A] highly readable and erudite analysis."—Guardian

"An engaging history.... A fascinating account of events both obscure and
well known, including the French Revolution and the Irish potato famine, as
seen through the lens of weather and its effect on harvests."—Foreign Affairs