Opening Up: A Guide To Creating and Sustaining Open Relationships (Paperback)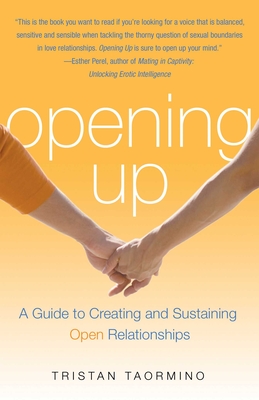 $17.95
Email or call for price.
Description
---
Relationship expert and bestselling author Tristan Taormino offers a bold new strategy for creating loving, lasting relationships. Drawing on in-depth interviews with over a hundred women and men, Opening Up explores the real-life benefits and challenges of all styles of open relationships -- from partnered non-monogamy to solo polyamory. With her refreshingly down-to-earth style and sharp wit, Taormino offers solutions for making an open relationship work, including tips on dealing with jealousy, negotiating boundaries, finding community, parenting and time management. Opening Up will change the way you think about intimacy.
About the Author
---
Tristan Taormino is an American feminist author, columnist, sex educator, activist, editor, speaker, radio host, and pornographic film director.
Praise For…
---
"A luscious smorgasbord of non-monogamy as an opportunity for breaking free of one-way models of sex and love. Taormino's discussion is remarkably nuanced and balanced--and encourages readers to proceed with their eyes wide open." --Jack Morin, PhD, author of The Erotic Mind

"Bold advice for explorers of open relationships. Comprehensive, clear, and grounded in practical realities, this book is one of the best to come along in a long time!" --Deborah Anapol, Ph.D., author of Polyamory: The New Love Without Limits

"Courageous, stunningly thorough and inspiring. If you need a pathfinding guide for evolving your relationships, this is it." --Daphne Rose Kingma, author of The Future of Love

"If you are looking for an everyday, run-of-the-mill relationship guide, this introduction to the world of nonmonogamy is probably not for you. Village Voice sex columnist Taormino, who has authored or edited a handful of guides on physical relationships (e.g., The Ultimate Guide to Anal Sex For Women), sheds light on the various types of open relations and shares tips on how these relationships can most successfully be maintained. Those put off by the book's premise shouldn't be: this is not so much an espousal of nonmonogamous relationships as it is a comprehensive guide to the phenomenon, offering numerous firsthand accounts from those involved in open relationships. With its modern twist on conventional relationships, her latest title would be best suited for contemporary nonfiction collections." --Carolann Curry, Mercer Univ. Medical Lib., Macon, GA -- Library Journal --July 2008

"Superbly informative, sympathetic and literate." --Dr. Gloria Brame, author of Different Loving

"Taormino cuts through all the utopian theory and gets down to what people really need: the nuts and bolts of how open relationships work. I want to give Opening Up to everyone I know who asks, 'How do you do it?'" --Susie Bright, author of Best American Erotica Series

"This is the book you want to read if you're looking for a voice that is balanced, sensitive and sensible when tackling the thorny question of sexual boundaries in love relationships. Opening Up is sure to open up your mind." --Esther Perel, author of Mating In Captivity: Unlocking Erotica Intelligence
— Reviews