Houses of the Founding Fathers: The Men Who Made America and the Way They Lived (Paperback)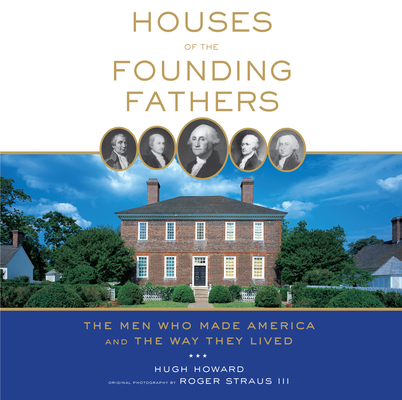 $26.95
Email or call for price.
Description
---
A riveting look at the private worlds of Hamilton, Washington, Jefferson, Adams, and more
 
The hit Broadway show Hamilton has shined a spotlight on our Founding Fathers and the fascinating private lives of these men who helped create the modern world. In this breathtaking volume, historian Hugh Howard and photographer Roger Straus take us on an eye-opening tour of forty of the Founding Fathers' stately homes. We see the uptown New York residence where Alexander Hamilton penned his "Statement of the Impending Duel" before his fateful meeting with Aaron Burr; Thomas Jefferson's iconic Monticello; the mansions of Washington, Adams, and Franklin; and the homes of many other signers of the Declaration of Independence and the Constitution.

At sites from Maine to Georgia, with stops in each of the thirteen colonies, the grand story of the Revolution emerges from unique and individual domestic perspectives. Houses overlooking the sea, in busy townscapes, or atop mountains reveal these patriots' tastes in architecture, furniture, and horticulture. There are tales of friends and enemies, murderous relatives, reluctant revolutionaries, adoring wives, and runaway servants. The founding families are brought to life in the rituals of birth and death, the food they ate, the archaic medical practices they endured, their household arrangements, and the way their slaves lived.
About the Author
---
Hugh Howard is the author of eleven books in the fields of history and architecture, most recently, Mr. and Mrs. Madison's War: American's First Couple and the Second War of Independence. His next book with photographer Roger Straus III, Houses of the Presidents, will be published in October 2012 by Little Brown. He lives in East Chatham, New York, with his wife and two daughters.
Roger Straus III spent thirty years working in book publishing before leaving to devote himself full-time to photography. His work has been featured in ten books, including America's Great Railroad Stations, and his latest book with Hugh Howard, Houses of the Presidents, will be published in October 2012 by Little Brown. He lives in North Salem, New York. 
Praise For…
---
"The 40 houses and 48 people profiled in this lushly illustrated coffee-table book provide a sense of place for the American Revolution. Hugh Howard's text peoples the bare rooms in the reader's mind, and Straus' photographs give the armchair traveler a good sense of what tourists experience, if not a complete historical accounting." —San Francisco Chronicle
"A must-have library addition . . . if your interest in American history extends to architecture, brief biographies, and juicy domestic gossip." —Sarasota Herald-Tribune
"Could this book get any better?" —Portsmouth [N.H.] Herald