The 100 Most Jewish Foods: A Highly Debatable List (Hardcover)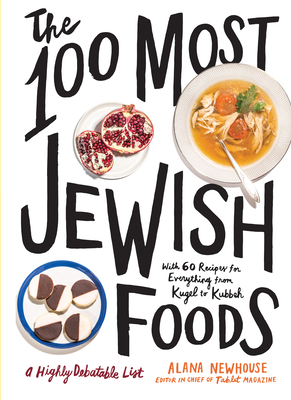 Description
---
"Your gift giv­ing prob­lems are now over—just stock up on The 100 Most Jew­ish Foods. . . . The appro­pri­ate gift for any occa­sion."
—Jewish Book Council
 
"[A] love letter—to food, family, faith and identity, and the deliciously tangled way they come together."
—NPR's The Salt

With contributions from Ruth Reichl, Éric Ripert, Joan Nathan, Michael Solomonov, Dan Barber, Yotam Ottolenghi, Tom Colicchio, Maira Kalman, Melissa Clark, and many more!

Tablet's list of the 100 most Jewish foods is not about the most popular Jewish foods, or the tastiest, or even the most enduring. It's a list of the most significant foods culturally and historically to the Jewish people, explored deeply with essays, recipes, stories, and context. Some of the dishes are no longer cooked at home, and some are not even dishes in the traditional sense (store-bought cereal and Stella D'oro cookies, for example). The entire list is up for debate, which is what makes this book so much fun. Many of the foods are delicious (such as babka and shakshuka). Others make us wonder how they've survived as long as they have (such as unhatched chicken eggs and jellied calves' feet). As expected, many Jewish (and now universal) favorites like matzo balls, pickles, cheesecake, blintzes, and chopped liver make the list. The recipes are global and represent all contingencies of the Jewish experience. Contributors include Ruth Reichl, Éric Ripert, Joan Nathan, Michael Solomonov, Dan Barber, Gail Simmons, Yotam Ottolenghi, Tom Colicchio, Amanda Hesser and Merrill Stubbs, Maira Kalman, Action Bronson, Daphne Merkin, Shalom Auslander, Dr. Ruth Westheimer, and Phil Rosenthal, among many others. Presented in a gifty package, The 100 Most Jewish Foods is the perfect book to dip into, quote from, cook from, and launch a spirited debate.
About the Author
---
Alana Newhouse is the editor in chief of Tablet, a daily online magazine of Jewish news, ideas, and culture launched in 2009. Prior to Tablet, she spent five years as culture editor of the Forward, where she supervised coverage of books, films, dance, music, art, and ideas. She also started a line of Forward-branded books with W.W. Norton and edited its maiden publication, A Living Lens: Photographs of Jewish Life from the Pages of the Forward. A graduate of Barnard College and Columbia's Graduate School of Journalism, Newhouse has contributed to the New York Times, the Washington Post, the Boston Globe, and Slate.
Tablet, launched in 2009 by editor in chief Alana Newhouse, is a daily online magazine of Jewish news, ideas, and culture. Tablet's recent books include The 100 Most Jewish Foods by Alana Newhouse and The Newish Jewish Encyclopedia by Stephanie Butnick, Liel Leibovitz, and Mark Oppenheimer, cohosts of the magazine's Unorthodox podcast, the most popular Jewish podcast on iTunes, with more than 4 million downloads. Follow @tabletmag on Instagram and Twitter.
Praise For…
---
"Amusing, yet serious."
—New York Times
 
"[A] love letter—to food, family, faith and identity, and the deliciously tangled way they come together."
—NPR's The Salt

"Your gift giv­ing prob­lems are now over — just stock up on The 100 Most Jew­ish Foods: A High­ly Debat­able List. This book will help deal with one of life's most per­sis­tent prob­lems, the appro­pri­ate gift for any occa­sion — host­ess present, Hanukkah, engage­ment, birth­day, or get well."
—Jewish Book Council

"Wholly original. . . . The whimsical, hilarious, nostalgic and, at times, serious collection reminds me of a boisterous dinner party with all your favorite foodies and chefs coming together against the backdrop of a laid-back panel on their experiences with Jewish food. . . . A real treat."
—Hadassah
 
"A perfect gift for this Passover—gorgeous and funny and well written. . . . The 100 Most Jewish Foods is also unafraid of the ways in which food can be a window into history, culture, and politics."
—Bklyner

"An entertaining choice for anyone interested in how food reflects a people and helps connect them to shared traditions."
—Baton Rouge Advocate
 
"The most culturally and historically significant Jewish foods. . . . Yes, it's highly debatable—that's the point."
—Epicurious
     
 "Downright entertaining . . . the most interesting cookbook we've read this year."
—Fleishigs Magazine

"You, me, your grandparents, your nosy neighbors and your jealous non-Jewish foodie friends all need to pick up a copy of The 100 Most Jewish Foods: A Highly Debatable List. . . . This ain't just a cookbook. It's also a history lesson, a culinary compendium and a gorgeously photographed gourmet grab bag. By dissecting various meals or foodstuffs, this book has captured the very essence of what it means to be Jewish."
—Baltimore Jewish Living
 
 "You don't have to be Jewish to love The 100 Most Jewish Foods. . . . Funny, emotional, memorable, and filled with gemutlichkeit, this is a book for any reason and all seasons."
—Booklist, starred review

"This entertaining and informative reference brings the rich traditions of Jewish foods to life."
—Publishers Weekly