The Memo: What Women of Color Need to Know to Secure a Seat at the Table (Hardcover)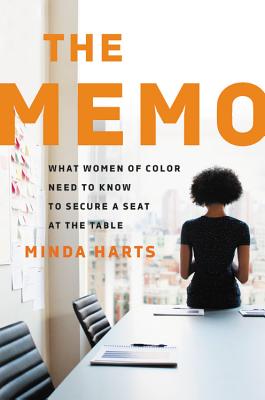 $27.00
Usually Ships in 1-5 Days
Description
---
From microaggressions to the wage gap, The Memo empowers women of color with actionable advice on challenges and offers a clear path to success.

Most business books provide a one-size-fits-all approach to career advice that overlooks the unique barriers that women of color face. In The Memo, Minda Harts offers a much-needed career guide tailored specifically for women of color.

Drawing on knowledge gained from her past career as a fundraising consultant to top colleges across the country, Harts now brings her powerhouse entrepreneurial experience as CEO of The Memo to the page. With wit and candor, she acknowledges "ugly truths" that keep women of color from having a seat at the table in corporate America. Providing straight talk on how to navigate networking, office politics, and money, while showing how to make real change to the system, The Memo offers support and long-overdue advice on how women of color can succeed in their careers.
About the Author
---
Minda Harts is the CEO of The Memo LLC, a career development platform for women of color, and an Assistant Professor at NYU Wagner. She has been featured on MSNBC's Morning Joe and Fast Company, and speaks at companies like Microsoft, Levi's, and Google. She hosts the podcast Secure The Seat, and lives in New York City.
Praise For…
---
"Harts offers plenty of advice, as well as valuable resources like email introduction templates, podcast suggestions, do's and don'ts, and more. The book has been dubbed a
Lean In
for women of color and will surely be popular, especially among young professional women and those interested in diversity and inclusion."—
Booklist
"Harts provides a necessary guide written from and to women of color, focusing on 'building your squad,' navigating office politics, managing in a world that is anything but post racial, and investing in oneself and one's career.... The result is a much-needed new perspective on an overwhelmingly white genre."—
Publishers Weekly
"We don't have to fight what was once invisible and unspoken, and we don't have to do it alone, unprepared, or with eye rolls and resignations. I'm talking to myself and my daughter here. We can be well informed and make the best choices for our lives and financial well-being even if we don't have an experienced sister or friend or mentor to talk to. We have one now in
The Memo
. In this eye-opening and timely book, Minda Harts puts words to our discomfort and our at-work slights, and gives us solutions and action steps to help secure our professional development and well being.
The Memo
is a must read for all women of color in business (and for all people who want to do better)."—
Natashia Deón
,
NAACP Image Award Nominee and author of Grace
"An essential and honest guide to taking our rightful place in the C-Suite with tangible solutions about how to break barriers and pave a new path for ourselves -- and the next generation."—
Jamia Wilson
,
director and publisher of the Feminist Press
"Minda Harts hasn't just written an excellent, down to earth, pragmatically actionable guide to career success for women of color; she's written a searingly accurate and brutally honest account of what it's like to be Black while working and the countless barriers and micro aggressions women of color face, that needs to be read by every white woman and man so that everyone can work together to break those barriers down forever.
The Memo
is a must-buy, a must-read, and a must-gift -- I'd recommend every Chief Diversity Officer and HR department provide copies for all of management to read."—
Cindy Gallop
,
founder and CEO of MakeLoveNotPorn
"For any woman, at any company -- even her own. To secure a seat at the table, securing this book comes first."—
Danyel Smith
,
culture journalist and former editor of Billboard and Vibe
"Pursuing a dynamic career as a woman of color in fast-paced, competitive, and often white-dominated spaces no easy feat. But with
The Memo,
Minda Harts has created a comprehensive and compelling guide on how to navigate our careers in spite of the obstacles we face. With lots of insight, research, and a nice dose of humor, Harts gives her reader the inspiration and motivation to go for her dreams -- no matter how daunting. This book is a must-read."—
Zeba Blay
,
senior culture writer at Huffington Post
"Packed with strategic and tactical wisdom for women of color in the workplace."—
Forbes.com
"For black women navigating corporate careers, this book is a must-read."—
Essence
**"This much-needed career advice guide fills the gap created by other books that lump together women of all races and overlook the unique barriers to access and success that exist for women of color, with chapters on networking, office politics, money and negotiation."—
B.L.A.C. Magazine