1947: Where Now Begins (Hardcover)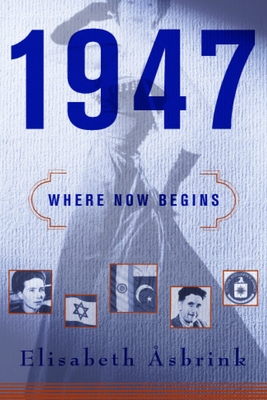 Description
---
An NPR Best Book of the Year 2018

"One of the best books, certainly the best nonfiction book, that I've read recently." —Nancy Pearl on NPR's Morning Edition 
 
"An extraordinary achievement." —New York Times Book Review


An award-winning writer captures a year that defined the modern world, intertwining historical events around the globe with key moments from her personal history.

The year 1947 marks a turning point in the twentieth century. Peace with Germany becomes a tool to fortify the West against the threats of the Cold War. The CIA is created, Israel is about to be born, Simone de Beauvoir experiences the love of her life, an ill George Orwell is writing his last book, and Christian Dior creates the hyper-feminine New Look as women are forced out of jobs and back into the home. 

In the midst of it all, a ten-year-old Hungarian-Jewish boy resides in a refugee camp for children of parents murdered by the Nazis. This year he has to make the decision of a lifetime, one that will determine his own fate and that of his daughter yet to be born, Elisabeth.
About the Author
---
Elisabeth Åsbrink is a nonfiction writer and journalist. She has worked for the Swedish National Television for fifteen years as a reporter and editor for news shows, cultural programs and investigative journalism. Her book And in the Vienna Woods the Trees Remain (Och i Wienerwald står träden kvar) received worldwide attention for revealing new information about IKEA founder Ingvar Kamprad's ties to Nazism. It won several awards, including the August Prize for Best Swedish Non-Fiction Book of the Year (2011). Åsbrink made her debut as a playwright with Tracks (Räls), based on the authentic minutes from a meeting convened by Herman Göring in 1938, and has since written four plays.
Praise For…
---
"1947 is one of those books that makes you want to major in history. It is one of the best books, certainly the best nonfiction book, that I've read recently. I think the subtitle, Where Now Begins, really speaks to one of the things that makes this book so important: The echoes of 1947 are resonating very, very clearly today." —Nancy Pearl on NPR's Morning Edition
 
"An extraordinary achievement." —New York Times Book Review

"[A] gripping history…[Åsbrink's] careful juxtaposition of disparate events highlights an underlying interconnectedness and suggests a new way of thinking about the postwar era." —The New Yorker
 
"A skillful and illuminating way of presenting, to wonderful effect, the cultural, political, and personal history of a year that changed the world." —Kirkus Reviews
 
"Åsbrink writes sentences that make one gasp in admiration…[1947] should be read for its poetry, its insights, and the interweaving of personal and political judgments." —Sydney Morning Herald
 
"Extraordinarily inventive and gripping, a uniquely personal account of a single, momentous year." —Philippe Sands, author of East West Street
 
"This is history as a series of eclectic snapshots of events and episodes and people, from the Nuremberg Trials to the partition of India, during a year in which the world tried to redefine its hopes and come to terms with its failures: and it makes for fascinating, disquieting, lively, and often surprising reading." —Caroline Moorehead, author of Village of Secrets
 
"Lucid and vivid…An outstanding work, history as it should be told." —Salil Tripathi, Chair of the PEN International Writers in Prison Committee, and author of The Colonel Who Would Not Repent
 
"Åsbrink deftly brings together the tangle, the mess, the aspirations, and the disappointments which characterized the period and which for her resonate personally through her family history." —Rosemary Ashton, author of One Hot Summer: Dickens, Darwin, Disraeli, and the Great Stink of 1858