The Smurfs Christmas (The Smurfs Graphic Novels) (Paperback)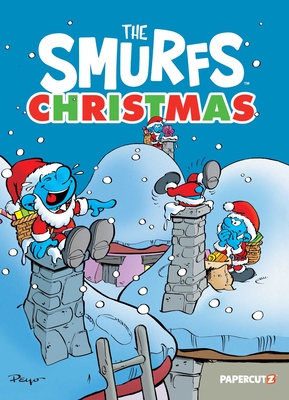 Description
---
A magical collection of Christmas tales to light up the coldest winter nights, from one of the greatest storytellers of our time.
There's no peace on earth when Christmas comes to the Smurfs Village, at least not while Gargamel is lurking about! In this special collection of frosty fun and frolic, before The Smurfs can stuff their stockings and open their presents, they have to deal with dragons, talking snowmen, grumpy bears, a kidnapped Santa Claus, and a reindeer chase through the starry night sky! It's a race to save Christmas in this smurfy Holiday treasure for the whole family.
About the Author
---
PIERRE CULLIFORD, born in Belgium June 25, 1928, was a cartoonist known as Peyo. We can consider ourselves lucky! After Peyo left school in Brussels, he looked in the paper for a job. Two caught his eye: offers for a dental assistant and an illustrator. When he presented himself to the dentist, he was told he was just 15 minutes too late! At the time, Belgium was a hothouse of comic strip artists. Peyo quickly found himself working with some of the most talented, amongst them characters such as his lifelong writing partner Yvan Delporte.
After struggling for some time, he eventually got the break he deserved when he started working for "Le Journal de Spirou." Johan and Peewit were amongst his most popular characters. But in 1958, the Smurfs made their first appearance and went on to become the world-famous characters we now know. Although most cartoon characters are known through their books before becoming TV characters, the opposite was true of the Smurfs in North America.
Papercutz is proud to bring the original Smurfs comics back into print in North America. The United States has finally caught up with the rest of the world in recognizing that comics are a true art form, and that the Smurfs graphic novels are classics. Between the release of the SMURFS graphic novels and two new feature films, the Smurfs are ready to conquer North America all over again! And that's just smurfy!
Praise For…
---
"Entertaining and endearing." —SCHOOL LIBRARY JOURNAL
"Cartooning's craftsmanship at its height." —THE COMICS JOURNAL
"Remarkably timeless." —NEWSARAMA
"Any story with the Smurfs will elicit a nostalgic feel, but this will also bring in new fans." —NO FLYING, NO TIGHTS