New York Deco (Hardcover)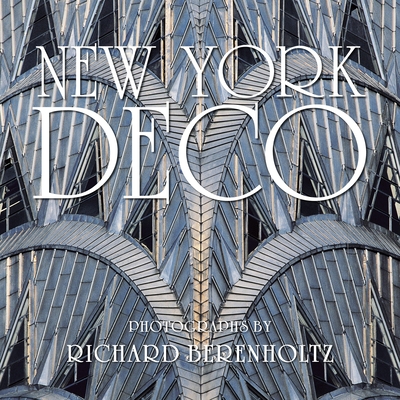 $19.95
Email or call for price.
Description
---
New York Deco profiles the architecture of the city during its most stylish and dazzling decades: the 1920s and early 1930s. New York City landmarks were born in this age - the Chrysler Building, the Empire State Building, Rockefeller Center, and the Waldorf-Astoria - as well as dozens of lesser-known office buildings and apartment houses. Together, they make the skyline of New York what it is today.

Richard Berenholtz's stunning photographs of the finest examples of New York City's art deco architecture are accompanied by text from writers, artists, and personalities of the era, including F. Scott Fitzgerald, Dorothy Parker, Edna St. Vincent Millay, Ogden Nash, and Frank Lloyd Wright, among others.
About the Author
---
RICHARD BERENHOLTZ has published five photography books in as many languages: New York New York (in both oversized deluxe and mini editions), Manhattan Architecture, New York Architecture, Architecture: A History, Inside New York, and Panoramic New York. During this time, he has produced one of the most comprehensive collections of photographs of New York extant.

CAROL WILLIS is the founder, director, and curator of the Skyscraper Museum. An architectural and urban historian, she is the author of Form Follows Finance: Skyscrapers and Skylines in New York and Chicago, and has appeared in numerous television documentaries and radio broadcasts discussing the history of American city building.
Praise For…
---
"...Photographer Richard Berenholtz provides photographs of Manhattan's most stylish and dazzling period: the 1920s and 1930s. Carol Willis, architectural historian, writes in the introduction that the Art Deco style was characterized by geometric ornamentation and 'machine-tooled elegance and sleek lines.' ...Berenholtz captures the skyline in the glimmering orange of sunrise and kaleidoscopic lights of sunset. Many photographs are complemented by quotations from people such as capitalist Ayn Rand: 'The skyline of New York is a monument of splendor that no pyramids or palaces will ever equal or approach.'"
Foreword Magazine

"Now available in a compact and indubitably affordable edition, New York Deco is a collection of Richard Berenholtz's full-color photography showcasing some of New York's most outstanding art deco architecture.  Brief text captions and the occaisonal quote enhance this stunning collection that is surely the next best thing to touring New York's grandiosity in person.  A treat for art deco fans, and the perfect souvenir for an unforgettable New York vacation, New York Deco is highly recommended."
Library Bookwatch