For Men Only, Revised and Updated Edition: A Straightforward Guide to the Inner Lives of Women (Hardcover)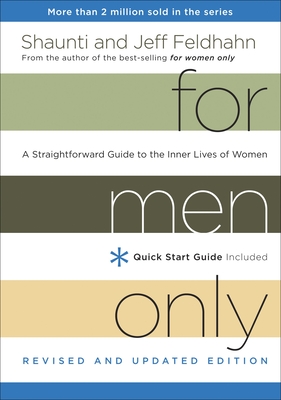 $15.99

Usually Ships in 2-6 Days
Description
---
"Shaunti and Jeff have unearthed a treasure chest of insights—eye-opening and life-changing."
—Andy Stanley, senior pastor, North Point Community Church

Finally, you can understand her!

If you're like most men, you've burned up lots of energy trying to figure out what a woman wants, what makes her tick, how to make her happy. 

The good news: success is simpler than you ever thought.  In their groundbreaking classic, For Men Only, Jeff and Shaunti Feldhahn reveal the eye-opening truths and simple acts that will radically improve your relationship with the woman you love. For example:
• Why she can't "just not think about" something that's bothering her 
• How to get her real answers without games
• How your provider instinct can actually cause her heartache – and what to do about it
• Why listening to her feelings is so hard for a guy, and a fix-it plan that works
• Why her "I do" at the altar will always mean, "do you?" and the answer that rocks her world
 
Now updated with the latest scientific research to explain the fabulous female brain plus an all-new chapter that shows how to decode her most baffling behavior, For Men Only is your roadmap to making her happy.
About the Author
---
Jeff and Shaunti Feldhahn are popular speakers and best-selling authors whose research findings are regularly featured in national media as diverse as Focus on the Family, Family Life, the New York Times, and the Today Show. The Feldhahns have two children and live in Atlanta, Georgia.
Praise For…
---
Praise for For Men Only
 "Once again Shaunti and Jeff Feldhahn have unearthed a treasure chest of insights that are not only eye-opening, but life-changing."
—Andy Stanley, senior pastor, North Point, Alpharetta, GA, and bestselling author

"In our weekly couples' study we read and discussed both For Women Only and For Men Only over the course of several months. They were fascinating and very helpful. The findings in For Men Only about how women think are so enlightening. My wife and I think these books should be required premarital reading!"
—Comedian Jeff Foxworthy  

"When we featured Shaunti's books on Family Life Today, the phone rang off the hook! When Shaunti and Jeff come back on our broadcast, I'm buying some more phones. For Men Only is fresh and relevant –good stuff for every marriage. Read it!"   
—Dennis Rainey, President, FamilyLife Today

"If you've ever asked, 'Why does she do, think, or say that?' then you've got to read this book.  Shaunti and Jeff not only answer this question, they eliminate the confusion that has kept far too many men from bridging the gender gap."
—Drs. Les and Leslie Parrott, bestselling authors of Love Talk

"Most of my work helping passive Christian men become more like Jesus involves how best to relate to women.  I'm going to make sure to keep a case of the Feldhahn's excellent book handy at all times."
—Paul Coughlin, author, No More Christian Nice Guy  

"Men, we're supposed to love our wives and live with them in an understanding way.  That's the clear assignment God gives each of us in the Scriptures.  So buy this book, read it a couple of times, underline a few key ideas, and then keep it where you can review it regularly.  It will help you be the husband God wants you to be."
—Bob Lepine, cohost, FamilyLife Today
 
Praise for For Men Only and For Women Only
 "Whenever Shaunti Feldhahn appears as a guest on the Focus on the Family radio program, we know that listener response will be enthusiastic. She has a way of connecting with the audience that is unique and compelling. We're thankful for the unique perspective she provides not only to the Christian community, but to the culture at large."
—Jim Daly, President, Focus on the Family

"These are the books I pass out to people as the best on the subject. Shaunti Feldhahn has the rare ability to do impeccable research and then make her findings incredibly practical. There is something to learn on every page."
—Jim Burns, PhD., President, HomeWord, author of Creating an Intimate Marriage  

"Whatever Shaunti Feldhahn researches, read. Actually, do more than read…study!  Shaunti's ability to ask the right questions, find the right answers and communicate the results clearly and practically sets her apart as a gifted researcher. Her content guides and changes lives."
—Emerson Eggerichs, Ph.D., best-selling author, Love and Respect

"Shaunti Feldhahn has a unique gift for helping men understand women, and women, men. Her books, For Women Only and For Men Only, are the best I know at providing rich and practical gender understanding that can be used immediately. I highly recommend both all the time!"
—Robert Lewis, author of Raising a Modern-Day Knight; founder, Men's Fraternity