Hog Wild: The Battle for Workers' Rights at the World's Largest Slaughterhouse (Paperback)
COVID-19 Update
March 30: In his March 30 press briefing, Governor Northam continues to say that businesses like Prince Books may remain open to customers as long as we practice social distancing. We are currently processing many online, email and phone orders, and we continue to receive boxes from our wholesaler and publishers. You are welcome to request curbside delivery, or you may come into the store. We spray the counter and the doors throughout the day. Please continue to order from us! Thank you for your business.
For now, Prince Books intends to remain open. If you would like a book and don't want to come into the store, please call us with your book request and credit card number, (or place order at prince-books.com), tell us that you would like us to bring your purchase out to your car. Park on Martin's Lane next to the back door, and call us so we can run your purchase out to you.
In the meantime we'll be closing daily at 5 p.m. Thank you for your business!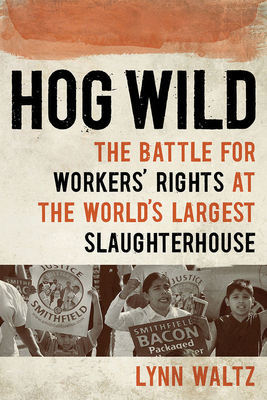 Description
---
When Smithfield Foods opened its pork processing plant in Tar Heel, North Carolina, in 1992, workers in the rural area were thrilled to have jobs at what was billed as "the largest slaughterhouse in the world." However, they soon left in droves because of the fast, unrelenting line speed and high rate of injury. Those who stayed wanted higher wages and safer working conditions, but every time they tried to form a union, the company quickly cracked down, firing union leaders, assaulting organizers, and setting minority groups against each other. 
Author and journalist Lynn Waltz reveals how these aggressive tactics went unchecked for years until Sherri Buffkin, a higher-up manager at Smithfield, blew the lid off the company's corrupt practices. Through meticulous reporting, in-depth interviews with key players, and a mind for labor and environmental histories, Waltz weaves a fascinating tale of the nearly two-decade struggle that eventually brought justice to the workers and accountability to the food giant, pitting the world's largest slaughterhouse against the world's largest meatpacking union. 
Following in a long tradition of books that expose the horrors of the meatpacking industry—from Upton Sinclair's The Jungle to Eric Schlosser's Fast Food Nation—Hog Wild uncovers rampant corporate environmental hooliganism, labor exploitation, and union-busting by one of the nation's largest meat producers. Waltz's eye-opening examination sheds new light on the challenges workers face not just in meatpacking, but everywhere workers have lost their power to collectively bargain with powerful corporations. 
 
About the Author
---
Lynn Waltz is an assistant professor of journalism at Hampton University in Hampton, Virginia. Twice nominated by The Virginian-Pilot for the Pulitzer Prize, she has been a professional journalist for more than twenty-five years.
Praise For…
---
 "Lynn Waltz weaves in-depth interviews of key actors and court records with contemporaneous newspaper reporting into a compelling saga of the fourteen-year campaign to unionize the world's largest meatpacking plant. Hog Wild is a valuable addition to the literature on workers' struggles for better wages and working conditions in the meatpacking industry." 
—Donald D. Stull, coauthor, Slaughter-house Blues: The Meat and Poultry Industry 
in North America 
 
"Lynn Waltz's examination of Smithfield Foods's campaigns against unionism in the modern meat industry is vivid and haunting. Her book offers compelling insight into the fate of the modern American labor movement and, crucially, evidence for why the United States is increasingly divided between rich and poor."—Wilson J. Warren, author, Tied to the Great Packing Machine: The Midwest and Meatpacking