Googie Modern: Architectural Drawings of Armet Davis Newlove (Hardcover)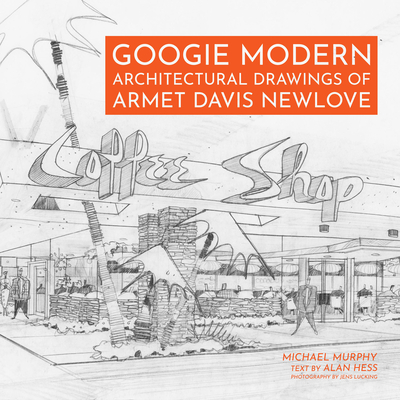 $50.00

Usually Ships in 2-6 Days
Description
---
A highly visual monograph of plans and concept drawings from the Armet Davis Newlove firm, the creator of what became known as "Googie Modern.
Googie Modern: Architectural Drawings of Armet Davis Newlove?highlights the never-before-seen architectural drawings of Armet Davis Newlove--the trio dubbed the fathers of Googie. Beloved by architectural historians, enthusiasts, and casual passers-by, their atomic-age coffee shops, diners, and restaurants are iconic in Southern California--the?Googie look that spread across the nation. The drawings show?the firm's high-concept designs, and demonstrate?how Googie captured the culture of the time, and gave the US innovative, practical, gorgeous monuments of everyday life. Text by renowned architectural historian Alan Hess places Armet Davis Newlove and Googie architecture atop the highest echelon of mid-century modern design and architectural history. Author/designer Michael Murphy brings the work to life, showcasing the fabulous drawings as important mid-century artwork.
About the Author
---
Michael Murphy is a former agency Art Director gone independent design professional and real-estate entrepreneur. He has had the privilege to design a traveling exhibition called Vedem Underground that deconstructs and reinterprets the literary work of the teenage Jewish creators of the longest-running underground magazine in a Nazi camp, which Smithsonian hailed as one of the 10 "Don't Miss..." new exhibits in 2017/2018.In the last few years with his photographic partner Jens Lucking, he has created two books and two exhibitions about Santa Monica in 1902 and 1917 respectively as well as a postcard book "Los Angeles: A Look Back To Postcards of the 1930s & 1940s from Today". He is currently focusing his efforts launching LookBackArt, a brand that celebrates history through time and place and LWH Properties, a development company that focuses on housing and community.Alan Hess is author of twenty books on Modern architecture including the landmark Googie: Fifties Coffee Shop Architecture in 1985. His other subjects include Oscar Niemeyer, Frank Lloyd Wright, Ranch houses, Las Vegas, and Palm Springs. He serves on the California Historical Resources Commission, and the Preserve Orange County and Palm Springs Modernism Week boards. Buildings he's landmarked include CBS Television City, Bullock's Pasadena, Norm's La Cienega, and the nation's oldest McDonald's stand. He's received the National Trust for Historic Preservation's Honor Award, Docomomo/US's Award of Excellence, and the Los Angeles Conservancy's President's Award.