The Social Labs Revolution: A New Approach to Solving our Most Complex Challenges (Paperback)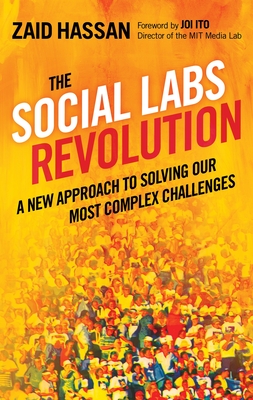 $19.95

Usually Ships in 2-6 Days
Description
---
Current responses to our most pressing societal challenges—from poverty to ethnic conflict to climate change—are not working. These problems are incredibly dynamic and complex, involving an ever-shifting array of factors, actors, and circumstances. They demand a highly fluid and adaptive approach, yet we address them by devising fixed, long-term plans. Social labs, says Zaid Hassan, are a dramatically more effective response.

Social labs bring together a diverse a group of stakeholders—not to create yet another five-year plan but to develop a portfolio of prototype solutions, test those solutions in the real world, use the data to further refine them, and test them again. Hassan builds on a decade of experience—as well as drawing from cutting-edge research in complexity science, networking theory, and sociology—to explain the core principles and daily functioning of social labs, using examples of pioneering labs from around the world. He offers a new generation of problem solvers an effective, practical, and exciting new vision and guide.
About the Author
---
Zaid Hassan is managing partner at the Oxford office of Reos Partners, an international organization dedicated to supporting and building capacity for innovative collective action in complex social systems. He has worked on many complex challenges all around the world, ranging from public health care to climate change to finance.
Praise For…
---
"This book provides decision makers with a practical guide to addressing complex challenges. It offers a clear-eyed, hopeful, and realistic approach that is timely and much needed."
—Cherie Blair, CBE, QC, founder, Cherie Blair Foundation for Women

"Welcome to the social labs revolution—and to Zaid Hassan's splendid account from the front lines of this movement bringing new ways to tap and focus collective intelligence for systemic innovation."
—Peter Senge, Senior Lecturer in Leadership and Sustainability, MIT Sloan School of Management, and author of The Fifth Discipline

"This book should be compulsory reading for anyone whose ambition is to change the systems that perpetuate poverty and inequality rather than just to mitigate the symptoms."
—Kate Wareing, Head of Innovation and Learning, Oxfam GB

"A profoundly important and timely book. Hassan has been at the center of the social labs revolution since its beginning and explains this powerful new approach to tackling the world's most pressing challenges in a clear, concise, and compelling fashion."
—Joseph Jaworski, author of the international bestseller Synchronicity

"Zaid Hassan offers an innovative, powerful new approach for tackling our toughest global challenges and bringing about lasting social change."
—Minh-Thu Pham, Director of Public Policy, United Nations Foundation

"Increasingly we face complex social problems that we can solve only through working together, not only with friends and colleagues but also with strangers and opponents. Zaid's book shows us a new way of doing so. It represents an important milestone in learning how to address our most profound challenges."
—Adam Kahane, author of Solving Tough Problems, Power and Love and Transformative Scenario Planning

"We know that social, experimental, prototyping, and systemic approaches have worked in the Internet ecosystem and for entrepreneurs—Zaid Hassan's radical book shows us how they can work for complex social issues."
—Howard Rheingold, author of the bestsellers Virtual Reality, The Virtual Community, Smart Mobs, and Net Smart

"Anyone interested in doing something about the complex, multicultural, economico-politico-social problems that the planet is facing must read this book."
—Edgar H. Schein Professor Emeritus, MIT Sloan School of Management, and author of Humble Inquiry

"Democracy, society, and civilization are all undermined by those who seek only to profit from the future. The Social Labs Revolution opens up the space to see, seed, and grow better future possibilities."
—Dr. Angela Wilkinson, Counselor for Strategic Foresight, Organisation for Economic Co-operation and Development

"Real transformational change requires a radical transformation in the way civil society creates strategy. The Social Labs Revolution offers a promising approach to achieving just that."
—Wael Hmaidan, Director, Climate Action Network International

"Through his hard-won practical wisdom, Zaid Hassan bravely and honestly outlines a radical new approach to solving our toughest social challenges. Read this brilliant book."
—Mustafa Suleyman, cofounder and Chief Product Officer, DeepMind Technologies

"A powerful and practical book—read it."
—Tim Harford, author of The Undercover Economist Strikes Back and Senior Columnist, Financial Times

"This truly personal, analytical, and luminous work based on years of research, reflection, and experience is essential reading for all those who aspire to effect deep and sustainable social change."
—Gabriella Etmektsoglou, Director, New York University Berlin

"This is a highly readable, provocative narrative, filled with insights, questions, and, above all, a deep yearning to know how best to make a difference in this troubled time."
—Margaret J. Wheatley, author of Leadership and the New Science and, most recently, So Far from Home

"Zaid Hassan's extremely compelling and readable manifesto is for people looking for effective solutions beyond packaged development programs and short-term or one-off social entrepreneurship projects. It is a work of information and insight that can be applied right now."
—Melissa Finn, Lecturer, Department of Political Science, Wilfrid Laurier University

"Drawing from his own experiences, Zaid Hassan shows how to engage with complexity in the real world and offers a compelling alternative to plans that can often be outdated by the time they are written."
—Danny Burns, Team Leader, Institute of Development Studies, University of Sussex

"Required reading for policymakers, practitioners, academics, and engaged citizens everywhere."
—Milla McLachlan, Director, Southern Africa Food Lab

"Read this book if you seek wisdom and practical experience with solving tough problems. Hassan is a facilitative leader of systemic change, not merely an observer, and he writes well."
—Hal Hamilton, Codirector, Sustainable Food Lab

"This is the type of book I will always have two copies of: one as an immediately useful narrative with insights on every page, and one to share with others."
—George Roter, CEO and cofounder, Engineers without Borders Canada

"Innovative, informative, accessible, and relevant, Zaid Hassan's book is a necessary tool in understanding today's volatile, exciting, and dynamic world. Strongly recommended."
—Wajahat Ali, cohost of Al Jazeera America's @AJAMStream

"A must-read for all those who are in the business of trying to tackle the many social problems afflicting our planet."
—Kamran Bokhari, Vice President, Middle Eastern and South Asian Affairs, Stratfor, and coauthor of Political Islam in the Age of Democratization

"Zaid Hassan brings many years of experience understanding processes of social change. He rightly identifies that the world is going through a very challenging period—and his thoughts deserve to be engaged with thoroughly in addressing those challenges."
—Dr. H. A. Hellyer, Nonresident Fellow, Foreign Policy, The Brookings Institution

"All our important problems are systemic; this book will help you not just find better answers to the problems but learn how to build better strategies for changing the systems themselves."
—Alex Steffen, Planetary Futurist in Residence, IDEO, and author of Carbon Zero