Into the Blizzard: Heroism at Sea During the Great Blizzard of 1978 [The Young Readers Adaptation] (True Rescue Series) (Hardcover)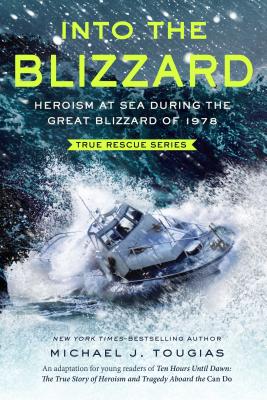 Description
---
A riveting true account of a rescue at sea from Michael J. Tougias, the author of the New York Times bestseller The Finest Hours.
In the midst of the Blizzard of 1978, the tanker Global Hope floundered on the shoals in Salem Sound off the Massachusetts coast. When the Coast Guard heard the Mayday calls, they immediately dispatched a patrol rescue boat. But within an hour, the Coast Guard rescue boat was in as much trouble as the tanker—both paralyzed in unrelenting seas. Enter Captain Frank Quirk who was compelled to act. Gathering his crew of four, Quirk plunged his forty-nine-foot steel boat, the Can Do, into the blizzard.
Perfect for fans of the I Survived series ready for a longer form account, this middle-grade adaptation of an adult nonfiction book chronicles the harrowing journey between Captain Quirk and the Coast Guard as they struggled in the holds of a radical storm. It's an epic tale of heroism and bravery at sea.
Christy Ottaviano Books

New York Times bestselling author Michael J. Tougias adapts his histories of real life stories for young readers in his True Rescue Series, capturing the heroism and humanity of people on life-saving missions during maritime disasters.
Illustrated Chapter Books for ages 6-9:
True Rescue: The Finest Hours
True Rescue: A Storm Too Soon
Young Readers Adaptations, for ages 9-14
The Finest Hours (Young Readers Edition)
A Storm Too Soon (Young Readers Edition)
Into the Blizzard (Young Readers Edition)
Attacked at Sea (Young Readers Edition)
About the Author
---
Michael J. Tougias is the author and coauthor of more than a dozen books, including two bestselling true-adventure and survival books, Ten Hours Until Dawn: A True Story of Heroism and Tragedy Aboard the Can Do and Fatal Forecast: An Incredible True Tale of Disaster and Survival at Sea.
Praise For…
---
"Reads like a thriller, suspenseful and ultimately tragic, effectively capturing the desperate situations of the three Coast Guard boats that were dispatched to aid a supposedly sinking tanker. . . Riveting."—Kirkus Reviews

"Readers who love disaster tales—and want to feel like they're experiencing them firsthand—will find this a compelling, well-sourced read."—Booklist

"Quotes from eyewitnesses involved with the rescue attempts, friends, and transcripts of radio transmissions tell the story of what was ultimately a deadly rescue mission. The bravery of Frank Quirk, the captain of the Can Do, along with that of crew member Charlie Bucko, takes center stage.'—School Library Journal