The Color of Law: A Forgotten History of How Our Government Segregated America (Paperback)
COVID-19 Update
March 30: In his March 30 press briefing, Governor Northam continues to say that businesses like Prince Books may remain open to customers as long as we practice social distancing. We are currently processing many online, email and phone orders, and we continue to receive boxes from our wholesaler and publishers. You are welcome to request curbside delivery, or you may come into the store. We spray the counter and the doors throughout the day. Please continue to order from us! Thank you for your business.
For now, Prince Books intends to remain open. If you would like a book and don't want to come into the store, please call us with your book request and credit card number, (or place order at prince-books.com), tell us that you would like us to bring your purchase out to your car. Park on Martin's Lane next to the back door, and call us so we can run your purchase out to you.
In the meantime we'll be closing daily at 5 p.m. Thank you for your business!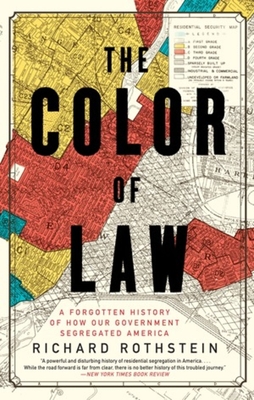 Description
---
New York Times Bestseller • Notable Book of the Year • Editors' Choice Selection

One of Bill Gates' "Amazing Books" of the Year

One of Publishers Weekly's 10 Best Books of the Year

Longlisted for the National Book Award for Nonfiction

An NPR Best Book of the Year

Winner of the Hillman Prize for Nonfiction

Gold Winner • California Book Award (Nonfiction)

Finalist • Los Angeles Times Book Prize (History)

Finalist • Brooklyn Public Library Literary Prize
This "powerful and disturbing history" exposes how American governments deliberately imposed racial segregation on metropolitan areas nationwide (New York Times Book Review).
Widely heralded as a "masterful" (
Washington Post
) and "essential" (
Slate
) history of the modern American metropolis, Richard Rothstein's
The Color of Law
offers "the most forceful argument ever published on how federal, state, and local governments gave rise to and reinforced neighborhood segregation" (William Julius Wilson). Exploding the myth of de facto segregation arising from private prejudice or the unintended consequences of economic forces, Rothstein describes how the American government systematically imposed residential segregation: with undisguised racial zoning; public housing that purposefully segregated previously mixed communities; subsidies for builders to create whites-only suburbs; tax exemptions for institutions that enforced segregation; and support for violent resistance to African Americans in white neighborhoods. A groundbreaking, "virtually indispensable" study that has already transformed our understanding of twentieth-century urban history (
Chicago Daily Observer
),
The Color of Law
forces us to face the obligation to remedy our unconstitutional past.
About the Author
---
Richard Rothstein is a research associate of the Economic Policy Institute and a Fellow at the Thurgood Marshall Institute of the NAACP Legal Defense Fund. He lives in California, where he is a Fellow of the Haas Institute at the University of California–Berkeley.
Praise For…
---
There's a really important book that came out... called The Color of Law. It explains how a lot of the racial segregation taking place in our neighborhoods that we maybe treat today as de facto actually happened as the result of very specific and very racist policy choices, going back at least to the F.D.R. Administration. You would think it would make sense if resources went into creating that racial inequity that resources would go into reversing it.

— Pete Buttigieg, author of Shortest Way Home: One Mayor's Challenge and a Model for America's Future

A powerful and disturbing history of residential segregation in America.... One of the great strengths of Rothstein's account is the sheer weight of evidence he marshals.... While the road forward is far from clear, there is no better history of this troubled journey than The Color of Law.

— David Oshinsky, New York Times Book Review

Masterful… The Rothstein book gathers meticulous research showing how governments at all levels long employed racially discriminatory policies to deny blacks the opportunity to live in neighborhoods with jobs, good schools and upward mobility.
— Jared Bernstein, Washington Post

Essential… Rothstein persuasively debunks many contemporary myths about racial discrimination…. Only when Americans learn a common—and accurate—history of our nation's racial divisions, he contends, will we then be able to consider steps to fulfill our legal and moral obligations. For the rest of us, still trying to work past 40 years of misinformation, there might not be a better place to start than Rothstein's book.
— Rachel M. Cohen, Slate

Rothstein's work should make everyone, all across the political spectrum, reconsider what it is we allow those in power to do in the name of 'social harmony' and 'progress' with more skepticism… The Color of Law shows what happens when Americans lose their natural rights of life, liberty, and the pursuit of happiness, or in the case of African-Americans, when there are those still waiting to receive them in full.

— Carl Paulus, American Conservative

Virtually indispensable… I can only implore anyone interested in understanding the depth of the problem to read this necessary book.
— Don Rose, Chicago Daily Observer

Rothstein's comprehensive and engrossing book reveals just how the U.S. arrived at the 'systematic racial segregation we find in metropolitan areas today,' focusing in particular on the role of government.... This compassionate and scholarly diagnosis of past policies and prescription for our current racial maladies shines a bright light on some shadowy spaces.
— Publishers Weekly [starred review]