Bad Girls: A Novel (Hardcover)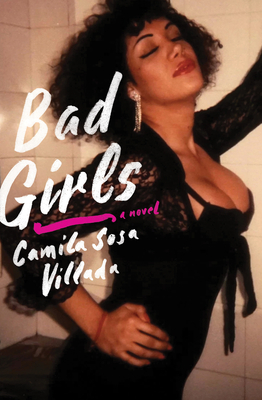 $24.00

Usually Ships in 2-6 Days
Description
---
Gritty and unflinching, yet also tender, fantastical, and funny, a trans woman's tale about finding a community on the margins.
 
In Sarmiento Park, the green heart of Córdoba, a group of trans sex workers make their nightly rounds. When a cry comes from the dark, their leader, the 178-year-old Auntie Encarna, wades into the brambles to investigate and discovers a baby half dead from the cold. She quickly rallies the pack to save him, and they adopt the child into their fascinating surrogate family as they have so many other outcasts, including Camila.

Sheltered in Auntie Encarna's fabled pink house, they find a partial escape from the everyday threats of disease and violence, at the hands of clients, cops, and boyfriends. Telling their stories—of a mute young woman who transforms into a bird, of a Headless Man who fled his country's wars—as well as her own journey from a toxic home in a small, poor town, Camila traces the life of this vibrant community throughout the 90s.

Imbuing reality with the magic of a dark fairy tale, Bad Girls offers an intimate, nuanced portrait of trans coming-of-age that captures a universal sense of the strangeness of our bodies. It grips and entertains us while also challenging ideas about love, sexuality, gender, and identity.
About the Author
---
Camila Sosa Villada was born in 1982 in La Falda (Córdoba, Argentina). She is a writer, actress, and singer, and previously earned a living as a sex worker, street vendor, and hourly maid. She holds degrees in communication and theater from the National University of Córdoba. Her play Carnes tolendas, retrato escénico de un travesti was selected for the 2010 National Theater Festival held in La Plata. Her first novel, Bad Girls, won the Premio Sor Juana Inés de la Cruz and the Grand Prix de l'Héroïne Madame Figaro and will be translated into six languages.
 
Kit Maude is a translator based in Buenos Aires. He has translated dozens of classic and contemporary Latin American writers such as Armonía Somers, Jorge Luis Borges, Lolita Copacabana, and Ariel Magnus for a wide array of publications and writes reviews and criticism for several different outlets in Spanish and English including the Times Literary Supplement, Revista Ñ and Otra Parte.
Praise For…
---
"Beautifully written…a stunning meditation on gender, our bodies, and the ties that bind." —NPR

"A fantastical world that is equal parts violent and tender. In beautifully rendered language, this debut novel…challenges contemporary ideas of gender, sexuality, and love with the magical touch of a fairy tale." —Wall Street Journal, 10 Best LGBTQ+ Books for Pride Month

"After I finished reading Camila's story, it kept growing in me…As a story of gender oppression, Bad Girls (beautifully translated by Kit Maude) would sound familiar almost everywhere…To record the travesti experience, no matter how harrowingly painful, as something precious is [its] purpose." —Graciela Mochkofsky, The New Yorker
 
"[Sosa Villada] is a wise, uncommon, and bewitching storyteller." —Esquire, Must-Read Books by Queer Writers

"This fantastical story about the power of chosen family is entrancing." —BuzzFeed
 
"Every so often, a slim book absolutely clobbers you with its exuberance and beauty—for me, this was that book." —Torrey Peters, author of Detransition, Baby

"A beautiful novel, moving, disturbing, raw, and honest. In skillfully rendered language, charged with poetic energy, it takes us deep into the world of trans prostitution and explores the violent and tender bonds that unite the women who inhabit it." —Fernanda Melchor, author of Hurricane Season

"Remarkable…Bad Girls is a generational testimony as well as a personal one. It imagines a future and exorcises a past, being exceptional for what it promises and for the portrait of a life it leaves behind." —Astra Magazine

"There's a touch of the miraculous, a sort of stop-motion fabulism, sprouting through the cracks of the Córdoban asphalt in Camila Sosa Villada's Bad Girls, imbuing the novel's ragtag company of trans deities, miscreants, and sex workers with an enduring sense of fantastical improbability…a vivid and boisterous translation…a plaintive vigil that feels like a party." —Justin Walls, Center for the Art of Translation Blog
 
"[A] poignant trans coming-of-age novel." —Book Riot, Queer Books from Indie Presses You Definitely Don't Want to Miss This Year
 
"An incredible debut novel…Taking a page from writers like Gabriel Garcia Marquez or Roberto Bolaño, Villada's work blends a stark depiction of violence and trauma with a distinctly queer magical realism." —Apartment Therapy
 
"This book cements [Sosa Villada] as a new exciting voice in world literature." —She Reads

"Camila Sosa Villada's Bad Girls blew Argentina's collective mind with its exquisite power, tenderness, and riotous imagination." —Carolina De Robertis, author of The President and the Frog and Cantoras

"This is an important book: fun, tragic, political, and full of marvel. It makes you understand the lives of these women and the wonder and pain of being different and rejected. It's full of pride and exquisitely written. It will break your heart and at the same time make you want to laugh and dance, full of love and sorrow." —Mariana Enríquez, author of The Dangers of Smoking in Bed

"Confrontational, radical, hopeful, Bad Girls does one of the most important things a book (or a life) can do. It looks at all the rubble and the dirt and asks: 'Can we make anything beautiful from this?'" —Keiran Goddard, author of Hourglass

"An exquisite book full of poetry, warmth, and magical, raw honesty. Gorgeously written stories of lives entwined and enmeshed in the toughest of spaces, stories that felt so bloody generous through the act of sharing. Simply beautiful." —Juno Roche, author of A Working-Class Family Ages Badly

"A work of searing, confrontational beauty." —Juno Mac, coauthor of Revolting Prostitutes

"Without hiding the reality, this novel celebrates trans life with lyricism and wonder. Bad Girls is a gem to be savored." —Elle (France)
 
"[Sosa Villada] constructs a language that seems to come from dreams, fairy tales, and adventure novels…a literary sensation." —Rolling Stone (Argentina)
 
"From a life reminiscent of a Pedro Almodóvar film, Camila Sosa Villada has drawn a novel, an incredible piece of literature…powerful." —Vanity Fair (France)
 
"An homage to sex workers suffused with magic." —Le Monde