Trees in Trouble: Wildfires, Infestations, and Climate Change (Hardcover)
COVID-19 Update
For now, Prince Books intends to remain open. If you would like a book and don't want to come into the store, please call us with your book request and credit card number, (or place order at prince-books.com), tell us that you would like us to bring your purchase out to your car. Park on Martin's Lane next to the back door, and call us so we can run your purchase out to you.
In the meantime we'll be closing daily at 5 p.m. Thank you for your business!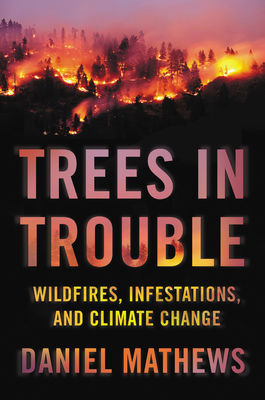 $26.00
Coming Soon - Available for Pre-Order Now
Description
---
A troubling story of the devastating and compounding effects of climate change in the Western and Rocky Mountain states, told through in-depth reportage and conversations with ecologists, professional forest managers, park service scientists, burn boss, activists, and more.
Climate change manifests in many ways across North America, but few as dramatic as the attacks on our western pine forests. In Trees in Trouble, Daniel Mathews tells the urgent story of this loss, accompanying burn crews and forest ecologists as they study the myriad risk factors and refine techniques for saving this important, limited resource.
Mathews transports the reader from the exquisitely aromatic haze of ponderosa and Jeffrey pine groves to the fantastic gnarls and whorls of five-thousand-year-old bristlecone pines, from genetic test nurseries where white pine seedlings are deliberately infected with their mortal enemy to the hottest megafire sites and neighborhoods leveled by fire tornadoes or ember blizzards.
Scrupulously researched, Trees in Trouble not only explores the devastating ripple effects of climate change, but also introduces us to the people devoting their lives to saving our forests. Mathews also offers hope: a new approach to managing western pine forests is underway. Trees in Trouble explores how we might succeed in sustaining our forests through the challenging transition to a new environment.
About the Author
---
DANIEL MATHEWS is the author of Natural History of the Pacific Northwest Mountains, Rocky Mountain Natural History, and Cascade-Olympic Natural History. During a career of writing about the natural history of western North America, he has backpacked far and wide, watched for fires from Desolation Peak Lookout, witnessed a forty-inch-thick fir crash onto his family's house in a storm, and lived for several years in a forest cabin without electricity, heating with firewood and writing by kerosene lamp. He lives in Portland, Oregon.