Girl Gone Missing (MN Edition) (A Cash Blackbear Mystery #2) (Paperback)
Holiday Hours and New Hours in 2022
Thank you for your support this year!
Beginning Jan. 3 Prince Books will open one hour later at 10 am Mon-Sat. and 11 am Sunday.
January 10, 2022: WE ARE HIRING. PLEASE SEE JOB DESCRIPTION BELOW AND CLICK pdf AT THE BOTTOM FOR EMPLOYMENT APPLICATION
Application must be filled out by hand and returned to the bookstore in person.
EMPLOYMENT APPLICATION BELOW:
High school degree mandatory; at least some college preferred.
This job is people oriented but also extremely detail oriented! We process a lot of special and online orders and have thousands of inventory records. Strict adherence to our process is important to keep the store operating smoothly.
Responsibilities include, but are not limited to:
Ensuring that all customers, whether in store, over the phone or online have a positive shopping experience
Operating our cash registers efficiently and accurately
Creating and maintaining displays; shelving books and maintaining good section organization
Receiving and returning shipments; maintaining an accurate physical inventory
Processing online orders for store pickup, curbside pickup, and shipping
Standing/walking is constantly required
Lifting of books and boxes is constantly required
Basic store maintenance including taking out trash and boxes, washing door windows, and dusting
Must be comfortable learning and working with a variety of software, including point of sale/inventory control system, ecommerce and shipping programs
Must be able to work in a team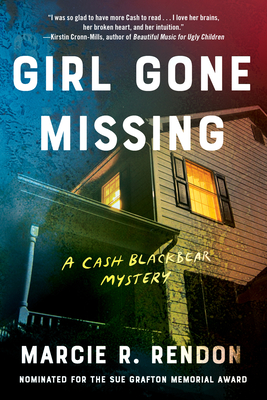 Other Books in Series
This is book number 2 in the A Cash Blackbear Mystery series.
Description
---
Nineteen-year-old Cash Blackbear helps law enforcement solve the mysterious disappearance of a local girl from Minnesota's Red River Valley.

1970s, Fargo-Moorhead: it's the tail end of the age of peace and love, but Cash Blackbear isn't feeling it. Bored by her freshman classes at Moorhead State College, Cash just wants to play pool, learn judo, chain-smoke, and be left alone. But when one of Cash's classmates vanishes without a trace, Cash, whose dreams have revealed dangerous realities in the past, can't stop envisioning terrified girls begging for help. Things become even more intense when an unexpected houseguest starts crashing in her living room: a brother she didn't even know was alive, from whom she was separated when they were taken from the Ojibwe White Earth Reservation as children and forced into foster care.

When Sheriff Wheaton, her guardian and friend, asks for Cash's help with the case of the missing girl, she must override her apprehension about leaving her hometown—and her rule to never get in somebody else's car—in order to discover the truth about the girl's whereabouts. Can she get to her before it's too late?
About the Author
---
Marcie Rendon is an enrolled member of the White Earth Nation and a speaker on Native issues, leadership, and writing. Rendon was awarded the McKnight Distinguished Artist Award for 2020. The first novel in her Cash Blackbear mystery series, Murder on the Red River, won the Pinckley Prize for Crime Fiction. Rendon was recognized as a 50 over 50 Change-maker by AARP Minnesota and Pollen in 2018. She lives in Minneapolis.
Praise For…
---
Praise for Girl Gone Missing

"Rendon is a natural storyteller and a consummate writer . . . There isn't a protagonist in recent fiction with the bearing of Rendon's creation, and we're the better for knowing her."
―Grand Rapids Herald-Review

"The vivid writing and keen eye keep the pages turning and readers hoping for another book in this series."
―Buzzfeed
 
"Darn that Marcie Rendon but she did it again. She wrote another book featuring Renee 'Cash' Blackbear which invariably led to nonstop, compulsive reading and thoughts about the 19-year-old protagonist . . . This is a good book. If you read it, block out uninterrupted time. It's hard to put down."
―The Circle News: Native American News and Arts
 
"I was so glad to have more Cash to read . . . I love her brains, her broken heart, and her intuition."
―Kirstin Cronn-Mills, author of Beautiful Music for Ugly Children

"Against the landscape of a 1970s college town, the disappearance of a classmate draws Cash into a web of dreams, deceit and danger. Heart-stopping, heartrending and heartening, often all at the same time."
―Linda LeGarde Grover, author of The Road Back to Sweetgrass
 
"Cash Blackbear is a complex, courageous character, full of her own integrity."
―Linda Rodriguez, author of the Skeet Bannion Mysteries
 
"Murder on the Red River and Girl Gone Missing are excellent novels, so compulsively readable that they are difficult to put down . . . presenting compelling and engaging narratives that also touch on issues that face Indigenous peoples and communities."
―Transmotion

"[A] refreshing sequel . . . Rendon, herself a member of the White Earth Anishinabe Nation, highlights the plight of Native Americans who were forcibly adopted by whites and Cash's discomfort in a land that is and is not hers. Readers will look forward to Cash's next outing."
―Publishers Weekly