Essential Speed Reading Techniques: How to Become a Better, Faster Reader (Paperback)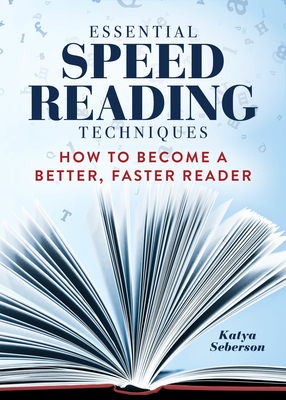 $12.99

Usually Ships in 2-8 Days
Description
---
Fly through books with this essential speed reading guide.
Faster reading
is
possible without sacrificing understanding—and this handbook will get you up to speed. Learn the most effective speed reading techniques for your personal strengths and challenges, and make visible progress through a series of engaging exercises.
Choose from a variety of strategies and practices proven to advance speed and improve reading comprehension. The integrated exercises help develop your skills, allowing you to read quickly—and still enjoy every word. Whether you're reading an entertaining novel or a challenging textbook, this speed reading guide will help you sail right through.
In
Essential Speed Reading Techniques
, you'll find:
Achievable goals—Improve your speed by setting realistic goals based on your own individual baseline.
Track your improvement—Assess your progress with self-tests for knowledge retention, smooth eye movement, and more.
Tips and tricks—Discover speed reading strategies to minimize rereading, focus your attention, and reduce eyestrain from screens.
With the personalized strategies in
Essential Speed Reading Techniques
, boosting your speed and reading comprehension will be a breeze.
About the Author
---
KATYA SEBERSON overcame her own reading difficulties through self-experimentation and focused training. She developed her methodology for effective reading while working as a speed reading instructor. Katya now owns a successful private practice, ExecutiveMind, where she teaches seminars and corporate workshops.
Praise For…
---
"Before this book, I thought I was a quick reader—but I was wrong! The author's advanced reading techniques were greatly beneficial to me, particularly with respect to powering through lengthy sentences and paragraphs efficiently; my comprehension at high reading speeds substantially improved."—Jon Krohn, PhD, Neuroscientist and author of Deep Learning Illustrated

"In this book you will find a cornucopia of strategies backed up by solid science that will make your reading speed skyrocket—written by an intensely determined author who has managed to overcome the greatest reading challenge of them all. Take it from someone who has learned from the master herself, Seberson's method really does work!"—Gloriana Victoria Xia, Student

"Speed-reading means nothing unless you not only comprehend what you are reading but also retain the information. Anyone who must read, retain, and comprehend vast amounts of material for their schooling or profession must let Katya Seberson guide them along the way. She has studied and mastered her craft and her knowledge never ceases to amaze me. This book should be required reading for every serious student and professional."—Steven Goldstein, Esq, Partner Goldstein & Handwerker LLP and former mayor of Springfield, NJ