The Bird-Friendly City: Creating Safe Urban Habitats (Paperback)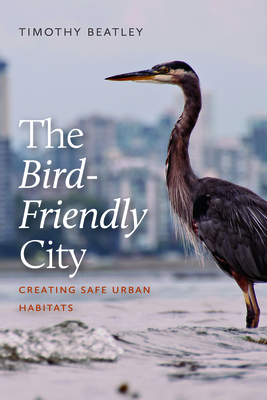 $35.00
Email or call for price.
Description
---
How does a bird experience a city? A backyard? A park? As the world has become more urban, noisier from increased traffic, and brighter from streetlights and office buildings, it has also become more dangerous for countless species of birds. Warblers become disoriented by nighttime lights and collide with buildings. Ground-feeding sparrows fall prey to feral cats. Hawks and other birds-of-prey are sickened by rat poison. These name just a few of the myriad hazards. How do our cities need to change in order to reduce the threats, often created unintentionally, that have resulted in nearly three billion birds lost in North America alone since the 1970s?
 
In The Bird-Friendly City, Timothy Beatley, a longtime advocate for intertwining the built and natural environments, takes readers on a global tour of cities that are reinventing the status quo with birds in mind. Efforts span a fascinating breadth of approaches: public education, urban planning and design, habitat restoration, architecture, art, civil disobedience, and more. Beatley shares empowering examples, including: advocates for "catios," enclosed outdoor spaces that allow cats to enjoy backyards without being able to catch birds; a public relations campaign for vultures; and innovations in building design that balance aesthetics with preventing bird strikes. Through these changes and the others Beatley describes, it is possible to make our urban environments more welcoming to many bird species.
 
Readers will come away motivated to implement and advocate for bird-friendly changes, with inspiring examples to draw from. Whether birds are migrating and need a temporary shelter or are taking up permanent residence in a backyard, when the environment is safer for birds, humans are happier as well.
About the Author
---
Timothy Beatley is the Teresa Heinz Professor of Sustainable Communities at the School of Architecture at the University of Virginia, where he has taught for over twenty-five years. His primary teaching and research interests are in environmental planning and policy, with a special emphasis on coastal and natural hazards planning, environmental values and ethics, and biodiversity conservation. His books that explore these issues include Biophilic Cities, Resilient Cities, and Blue Urbanism (Island Press).
 
Praise For…
---
"Impressively informed and informative, exceptionally well organized and presented, clearly outline the problems while offering insightful and practical solutions, The Bird-Friendly City: Creating Safe Urban Habitats is an outstanding and unreservedly recommended contribution to personal, professional, community, college and university library Urban & Land Use Planning collections in general and Bird Field Guides and Avian Environmental studies curriculum lists in particular."
— Midwest Book Review

"From swift projects in England and the USA to a community saving bushland in Australia the book moves along nicely retaining your interest for what will be next …. Written about urban areas, but helpful to all with an interest in helping our birds survive the hazards we humans present them."
— The Osprey

"Bird-Friendly is exhaustive in the myriad ways we, individually and societally, can attract and sustain avian life for our enjoyment, thereby increasing the abundance and diversity of bird life. There are inspiring examples of how cities, suburbs and entire regions can become welcoming and sustainable to birds and other wildlife when the city is viewed and managed as a unique ecosystem." 
 
— Journal of Urban Design