An Impossible Dream: Reagan, Gorbachev, and a World Without the Bomb (Hardcover)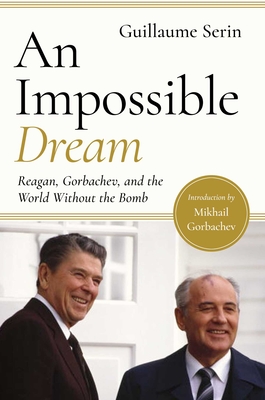 Description
---
The riveting untold story behind the meeting between Ronald Reagan and Mikhail Gorbachev in Reykjavik to stop the nuclear arms race.

When Reagan and Gorbachev sat down in Reykjavik in 1986, George Shultz said that it was "the poker game with the highest stakes ever played." It was the last time the world had a chance to do away entirely with nuclear weapons.

This is the behind-the-scenes story of this remarkable summit conference. An Impossible Dream is the first exploration of recently-available archives of both sides—top-secret archives of the Kremlin, the personal papers of Gorbachev, as well as Reagan's archives. These chronicles, personal diaries and previously classified memoranda are deeply enriched by the personal reminiscences of many of the key players at this era. But above all, the stage is set with a personal and exclusive preface from Gorbachev himself.

An Impossible Dream is the deeply important examination of the present and the future. The hazards of the nuclear age are legion, from aging weapons to new software that is vulnerable to terrorist attacks. With elements of the Trump administration considering a unilateral abrogation of the intermediate range nuclear missile (INF) treaty, the roots of which were laid at Reykjavik. Serina lays out this pivotal moment in history clearly and dramatically in this landmark work, as the world stands poised on the edge of a potential new arms race.
About the Author
---
Guillaume Serina, a historian and graduate of the Sorbonne, is currently the outreach coordinator for the International School of Los Angeles. An experienced journalist, he has covered three U.S. presidential elections for several European media and has published five books in French, including the first French-language biography of Barack Obama. He lives in Los Angeles, California.

Mikhail Gorbachev is the Former General Secretary of the Communist Party of the Soviet Union.

David A. Andelman has been a foreign correspondent for The New York Times and CBS News in Europe and Asia, an Executive Editor of Forbes and editor and publisher of World Policy Journal. He is currently a commentator for CNN and NBC News Think. He is a member of the Council on Foreign Relations and the author of three books, most recently, A Shattered Peace: Versailles 1919, and the Price We Pay Today. He divides his time between New York City and Paris.
Praise For…
---
"Guillaume Serina's book seeks to build a bridge between yesterday and today. The detailed account of my meetings with President Ronald Reagan in Geneva and Reykjavik, pieced together from interviews with some of the key participants and observers, puts in perspective what we tried to accomplish in Iceland: ridding the world of all nuclear weapons."
— Mikhail Gorbachev

"A straightforward, no-frills account by a French journalist of the Reagan-Gorbachev negotiations that came achingly close to abolishing nuclear weapons."
— William Taubman, Pulitzer Prize-winning author of GORBACHEV: His Life and Times

"Serina's research becomes particularly revelatory as he explains the immediate aftermath of the Reykjavik summit. A historical account that feels refreshing because of the author's neutral perspective as neither American nor Russian."
— Kirkus Reviews

"Serina gets into the minds of the two presidents and their advisers, recounting with suspense the manner in which events unfold. The originality of this account of the Reagan-Gorbachev summit resides as much in the story of the events as the writings of Serina, who brilliantly recreates the warm breath of history."
— Radio France International

"I am grateful to Guillaume Serina and this book, which reveals how two of the most powerful leaders in the world tried—in the midst of the Cold War—to get rid of nuclear weapons. It's a fascinating book. One that Donald Trump and Vladimir Putin should read and carefully consider."
— Paul Quiles, Former French Defense Minister and President of the Nuclear Disarmament Initiative

"Tantalizing. Serina's account paints a vivid and valuable pictures of the two-day meeting in the Icelandic capital."
— The Economist