Bad Indians: A Tribal Memoir (MP3 CD)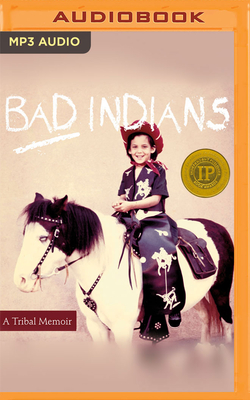 $24.99
Email or call for price.
Description
---
Identity and history at their most dynamic, creative, and personal
"If we allow the pieces of our culture to lie scattered in the dust of history, trampled on by racism and grief, then yes, we are irreparably damaged. But if we pick up the pieces and use them in new ways that honor their integrity, their colors, textures, stories - then we do those pieces justice, no matter how sharp they are, no matter how much handling them slices our fingers and makes us bleed."
This beautiful and devastating book - part tribal history, part lyric and intimate memoir - should be required for anyone seeking to learn about California Indian history, past and present. Deborah A. Miranda tells stories of her Ohlone Costanoan Esselen family as well as the experience of California Indians as a whole through oral histories, newspaper clippings, anthropological recordings, personal reflections, and poems. The result is a work of literary art that is wise, angry, and playful all at once, a compilation that will break your heart and teach you to see the world anew.
Reviews
"A searing indictment of the ravages of the past and a hopeful look at the courage to confront and overcome them." (Kirkus Reviews)
"Essential for all of us who were taught in school that the 'Mission Indians' no longer existed in California, Deborah Miranda's Bad Indians is a fascinating book that combines tribal histories, family histories, family tape recordings, and the writings of a White ethnologist who spoke with Miranda's family, together with photographs, old reports from the mission priests to their bishops, and newspaper articles concerning Indians from the nearby White settlements. But it's her poetry and prose, and the way she structures the book, which are the real treat for the reader. Her poems provide the delicate but strong structure that beautifully joins all the elements. Always lively, informative, and insightful, Miranda takes us on a journey to locate herself by way of the stories of her ancestors and others who come alive through her writing. It's such a fine book that a few words can't do it justice." (Leslie Marmon Silko, author of Ceremony and The Turquoise Ledge)
"For so long, Native writers and readers open books of our tribal history, archaeology, or anthropology and find that it is not the story we know. It does not include the people we know. It does not tell the stories of the heart or the relationships that were, and are, significant in any time. When we write our own books, they do not fit the 'record', as created by and confirmed by outside views. From the voice of the silenced, the written about and not written by, this book is groundbreaking not only as literature but as history." (Linda Hogan, author of the Pulitzer Prize-nominated Rounding the Human Corners)
Bad Indians brings the human story of California's Indigenous community sharply into focus. It's a narrative long obscured and distorted by celebrations of Christian missionaries and phony stories about 'civilization' coming to a golden land. No other history of California's Indigenous communities that I know of presents such a moving personal account of loss and survival." (Frederick E. Hoxie, Swanlund Professor, University of Illinois, Urbana-Champaign)