Sweet Time (Paperback)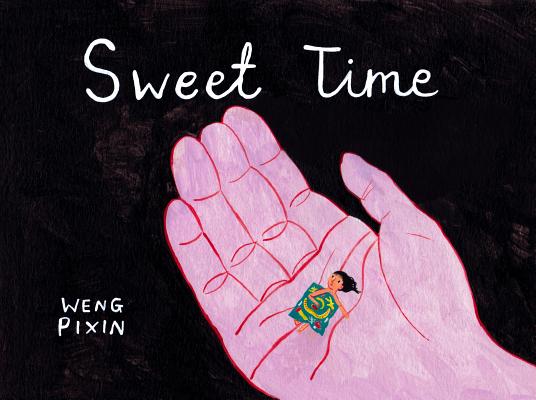 $24.95
Email or call for price.
Description
---
Vibrant swatches of paint build resonant portraits of heartache, childhood memories, and loneliness

Sweet Time is an intimate rumination on love, empathy, and confidence. Singaporean cartoonist Weng Pixin delicately explores strained relationships with a kind of hopefulness while acknowledging their inevitable collapse. Her stories are like a series of snapshots in a photo album or the brightest highlights from an Instagram profile.

Gorgeous image follows gorgeous image in a delicate quest to find connection. A night out turns into a chance encounter that is at first ecstatic and then quickly descends into awkwardness. A round of "he loves me, he loves me not" becomes a way of reading every action taken by a distant love interest. A couple find themselves in an artificially beautiful landscape, but the relationship can't survive their difference of opinion on the illusion of its beauty. In Sweet Time, thick and bold strokes of color mingle with delicate lines. Weng combines colorful realism with a gentle wit and introspection, crafting infinitely relatable stories of everyday life and love now.
About the Author
---
Weng Pixin (Pix for short) was born in 1983 and grew up in sunny Singapore. She loves nighttime rainfalls, reading non-fiction books, and eavesdropping on sing-song conversations among the toads who live right below her apartment.
Pixin grew up listening to stories by her father, who was curious about nature, humans, and the relationship between the two. In turn, when it came to her art, Pixin loves to create semi-autobiographical comics and stories that reflect and express her curious nature too.
Sweet Time is Pixin's first comic published by Drawn & Quarterly. It is composed of a selection of stories, comics, and visual vignettes made between 2008 - 2017, capturing themes of loneliness, disconnection, and connectedness.
Praise For…
---
"This lovely semi-autobiographical graphic novel by Singaporean cartoonist Weng Pixin reflects her endless curiosity, vivid imagination and sense of wonder. Sad yet hopeful, this volume explores themes of love, loss, connection and compassion."
—Ms. Magazine

"Though the art of Sweet Time is by definition comics art, it stands impressively far above most of the conventions and genre expectations of the medium's mainstream publishing history... Whatever you call Sweet Time, it's a welcome expansion to the practical definition of comics as an art form."
—Pop Matters

"Weng Pixin's wonderful debut, Sweet Time, is a medium-defining work... a melancholic assemblage of boxes, papers, threads, inks, oils, and watercolors." —The Brooklyn Rail, 20 Best Art Books of 2020

"Explosive colors, unexpected landscapes and graphic erotica define Weng's uncommon style; her characterizations are often child-like and unpredictable. Her hand-lettering—in size and content—is visually sporadic, leaving many pages and panels potently wordless...Beyond the intriguing stories, Weng's art proves to be her majestic accomplishment."
—Shelf Awareness

"Singapore's Weng Pixin eschews comic-book conventions in favour of a loose and playful style of art that stitches together painterly expressionism and travel-diary immediacy." —The Georigia Straight

"This is wonderfully difficult to categorize, and comics fans searching for uncommon, emotional, and imaginative art will find lots of it here." —Booklist