Transfer & Stitch: Romantic Motifs: Over 60 reusable motifs to iron on and embroider (Paperback)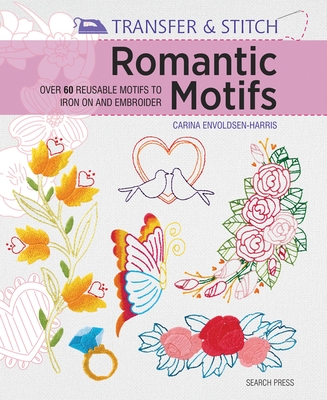 $24.95
Email or call for price.
Description
---
This collection of 64 beautiful romantic motifs and accompanying transfers provides a must-have source of design ideas for anyone who enjoys stitching. The designs include hearts, flowers, swallows, wedding rings and butterflies and cover a range of sizes and styles. The book is broken down into four main sections: the key stitches and techniques, the samplers, the projects and finally the cut-out transfers.

Each design is shown as a sampler sewn by Carina in colours and stitches of her choice. Carina has a wonderful eye for colour and design, so the samplers will encourage those who might need some guidance. Clear instructions accompany each motif, with information given on the DMC thread colours and the embroidery stitches used. Those who prefer to create their own look can do so by simply adapting the colours and stitches. The book then showcases twelve beautiful projects embroidered with designs from the samplers and stitched by Carina in different colourways to the originals. These are intended to inspire: whether you are looking for a small, dainty motif to decorate a child's dress or sunhat, or a large, bold design to add impact to a pillow or tea towel, there will be a design in this book that matches your chosen item to give it a touch of contemporary homemade style. Finally, the transfers at the back can be cut out and ironed up to ten times each; the book contains a handy pocket at the back for storing cut-out designs.

There are notes on the materials and basic techniques used at the start of the book, including how to successfully use the transfers and how to frame up a ring frame. With just eleven simple embroidery stitches to choose from, all with clear, step-by-step diagrams, even those new to stitching will be able to tackle all the designs provided. This is a must-have resource for sewers of all abilities.
About the Author
---
Carina Envoldsen-Harris is a Danish designer, blogger and author, living in the UK. She has a background in multimedia design as well as studies in art history and Italian language. Under the name Polka & Bloom, Carina has been designing and selling embroidery patterns since 2009. The patterns combine her life-long passion for art, design, history and nature, often including floral motifs and bright colours.

Carina's work has been published in these magazines: Cross Stitcher, Mollie Makes (three issues), Australian Homespun (twice), Hoop-La!, Homemade with Love. She has also contributed to the following books: Mend It Better, Mollie Makes Christmas, The Needlecraft Stitch Directory, Stitch Along, Doodle Stitching: The Holiday Motif Collection (upcoming), Mollie Makes: Embroidery (upcoming).
Praise For…
---
Review from Postcard Reviews: https://tracyshephard.wordpress.com/2017/09/18/romantic-motifs-transfer-stitch-carina-envoldsen-harris/
2017-09-18
Romantic Motifs: Transfer & Stitch Carina Envoldsen-Harris
Pub: Search Press This collection of 64 beautiful romantic motifs and accompanying transfers provides a must-have source of design ideas for anyone who enjoys stitching. Featuring designs from hearts and flowers to swallows, wedding rings and butterflies, the book also includes twelve beautiful embroidered projects for inspiration. There are notes on the materials and basic techniques used at the start of the book, including how to successfully use the transfers and how to frame up a ring frame. With just eleven simple embroidery stitches to choose from, all with clear, step-by-step diagrams, even those new to stitching will be able to tackle all the designs provided.
This is a must-have resource for sewers of all abilities. This is a gem of a book for embroiderers..
With over 60 designs, each double page is dedicated to the design, thread key and method to bring to life the beautiful flowers, hearts, birds and borders. The designs are a good size and Romantic Motifs comes together with… an iron on template, that is reusable and a color and image page.. which can be used with a 'light box' for darker fabrics. (the book does not suggest this).There are stitch guides and material suggestions and Carina Envoldsen-Harris has put the projects together with some fabulous ideas. I love her idea of a sampler using all of the motifs. This is a very pretty book and would make a gorgeous gift. The craft itself is not difficult to learn so even someone just stating would find this book delightful I think the only problem is which one to do first.
5*/5