The Book of Malachi (Paperback)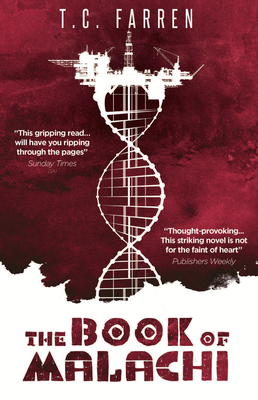 Description
---
In this frightening, high-concept science fiction thriller, a mute man must confront the horrors of organ farming on a deep-sea oilrig.


Longlisted for the Sunday Times Fiction Prize SA

Nominated for the 2020 Nommo Awards for Speculative Fiction by Africans

"Will have you ripping through the pages. Part thriller, part horror, part speculative fiction: this gripping read goes to the heart of ethical quandaries, forcing the reader to ask: "What if it were me?"
Sunday Times (SA)

Malachi, a mute thirty-year-old man, has just received an extraordinary job offer. In exchange for six months as a warden on a top-secret organ-farming project, Raizier Pharmaceuticals will graft Malachi a new tongue.

So Malachi finds himself on an oilrig among warlords and mass murderers. But are the prisoner-donors as evil as Raizier says? Do they deserve their fate?

As doubt starts to grow, the stories of the desperate will not be silenced – not even his own. Covertly Malachi comes to know them, even the ones he fears, and he must make a choice – if he wants to save one, he must save them all. And risk everything, including himself.

"Sharp and compact but devastatingly poetic. This book packs real power into every page."
Charlie Human

"Farren has created an extraordinary narrator in Malachi... [An] intense and memorable [read]." SFX
About the Author
---
T.C. Farren is a novelist, prize-winning screenwriter and former journalist. Her first novel, Whiplash, was shortlisted for The Sunday Times Fiction Prize and was adapted into the feature film, Tess. The Book of Malachi has been longlisted for the 2020 Nommo Awards for Speculative Fiction by Africans.
Praise For…
---
"The Book of Malachi displays immense craft, talent and forcefulness... a grim small-scale dystopia with a nucleus of sunshine at its center."
Locus
"The Book of Malachi will have you ripping through the pages. Part thriller, part horror, part speculative fiction: this gripping read goes to the heart of ethical quandaries, forcing the reader to ask: "What if it were me?"'
Sunday Times (SA)
"Thought-provoking and disturbing... This striking horror novel is not for the faint of heart."
Publishers Weekly
"Farren has created an extraordinary narrator in Malachi...[An] intense and memorable [read]." SFX
"Grace and hope elevate The Book of Malachi from the foundations of its sci-fi action thriller narrative. The questions Farren asks about who controls our ideas about forgiveness, who deserves it and why, could stay with you for a long time." New Scientist
"Sharp and compact but devastatingly poetic. This book packs real power into every page."
Charlie Human
"Farren's descriptive powers are faultless… Sheer genius" 
Cape Times 
"An extraordinary, moving story that I read sometimes through the gaps in my fingers, like peeking at a horror movie — but one with hope and some exquisite visuals." 
Country Life (SA)
"An exceptional writer… I can't recommend this powerful novel highly enough" LitNet
'This gripping thriller with its unusual hero and thought-provoking plot is a compelling read.' Fourways Review