Hollow Land: Israel's Architecture of Occupation (Hardcover)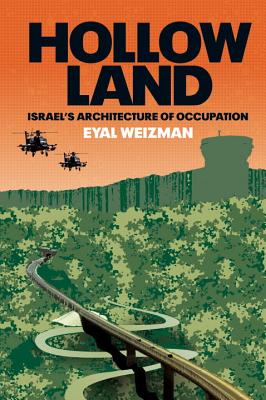 $34.95
Email or call for price.
Description
---
Hollow Land is a groundbreaking exploration of the political space created by Israel's colonial occupation.

In this journey from the deep subterranean spaces of the West Bank and Gaza to their militarized airspace, Eyal Weizman unravels Israel's mechanisms of control and its transformation of the Occupied Territories into a theoretically constructed artifice, in which all natural and built features function as the weapons and ammunition with which the conflict is waged. Weizman traces the development of these ideas, from the influence of archaeology on urban planning, Ariel Sharon's reconceptualization of military defense during the 1973 war, through the planning and architecture of the settlements, to contemporary Israeli discourse and practice of urban warfare and airborne targeted assassinations.

In exploring Israel's methods to transform the landscape and the built environment themselves into tools of domination and control, Hollow Land lays bare the political system at the heart of this complex and terrifying project of late-modern colonial occupation.
About the Author
---
Eyal Weizman is Professor of Spatial and Visual Cultures at Goldsmiths, University of London, where he directs the Centre for Research Architecture and the European Research Council funded project Forensic Architecture. He is also a founder member of the collective Decolonizing Architecture Art Residency (DAAR) in Bethlehem, Palestine. He is the author of "Hollow Land," "The Least of All Possible Evils," and co-editor of "A Civilian Occupation." He lives in London.
Praise For…
---
"Eyal Weizman brilliantly deconstructs Israel's yoking of traditionally humanist disciplines and discourse to the service of its campaign against the Palestinians. This book is chilling but essential reading."—Ahdaf Soueif

"Hollow Land is a remarkably original work that confirms Eyal Weizman's indispensable role as a critic of the sinister and ubiquitous instrumentality of space in contemporary politics and life."—Michael Sorkin

"Hollow Land is a remarkable achievement. Scholarly and poetic in its epic reach, and narrated with the clarity of vision and sensibility of an artist, Hollow Land is destined to become a classic."—Karma Nabulsi

"A startling exercise in what it means to think through the axiomatics of occupation, capture and subjection ... Weizman boldly attempts to create an entirely new method to conceptualize the relationship between surfaces, movement, and the tools of war."—Achille Mbembe

"A wrenching account of the multiple ways in which the land of Palestine has been hollowed out by Israeli occupation. Weizman's stunning combination of words and images is at once a brilliant critique of the politics of space and a searing indictment of colonial rule and dispossession."—Derek Gregory