Hollow Land: Israel's Architecture of Occupation (Paperback)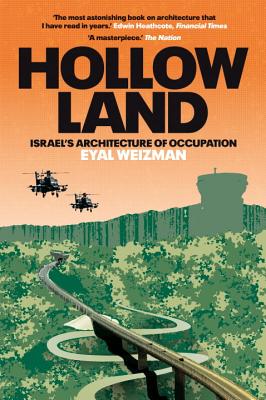 Description
---
From the tunnels of Gaza to the militarized airspace of the Occupied Territories, Eyal Weizman unravels Israel's mechanisms of control and its transformation of Palestinian towns, villages and roads into an artifice where all natural and built features serve military ends. Weizman traces the development of this strategy, from the influence of archaeology on urban planning, Ariel Sharon's reconceptualization of military defence during the 1973 war, through the planning and architecture of the settlements, to the contemporary Israeli discourse and practice of urban warfare and airborne targeted assassinations.

Hollow Land lays bare the political system at the heart of this complex and terrifying project of late-modern colonial occupation.
About the Author
---
Eyal Weizman is Professor of Spatial and Visual Cultures at Goldsmiths, University of London, where he directs the Centre for Research Architecture and the European Research Council funded project Forensic Architecture. He is also a founder member of the collective Decolonizing Architecture Art Residency (DAAR) in Bethlehem, Palestine. He is the author of Hollow Land, The Least of All Possible Evils, and co-editor of A Civilian Occupation. He lives in London.
Praise For…
---
"The most astonishing book on architecture that I have read in years."
—Edwin Heathcote, Financial Times

"A masterpiece of political analysis."
—James Ron, The Nation

"Eyal Weizman has taken Edward Said's thesis to a new level, generating extraordinary, and at times surreally uncomfortable, conclusions … Weizman's book is of salutary interest."
—Jay Merrick, Independent

"Weizman takes his readers on a tour of the visible and invisible ways in which Israel implements its control over Palestinians … Hollow Land is eloquent about the architectural chaos and confusion created by Israel in the Occupied Territories."
—Yonatan Mendel, London Review of Books

"A passionate jeremiad."
—Harper's

"Eyal Weizman brilliantly deconstructs Israel's yoking of traditionally humanist disciplines and discourse to the service of its campaign against the Palestinians. This book is chilling but essential reading."
—Ahdaf Soueif

"Hollow Land is a remarkably original work that confirms Eyal Weizman's indispensable role as a critic of the sinister and ubiquitous instrumentality of space in contemporary politics and life."
—Michael Sorkin

"Hollow Land is a remarkable achievement. Scholarly and poetic in its epic reach, and narrated with the clarity of vision and sensibility of an artist, Hollow Land is destined to become a classic."
—Karma Nabulsi

"A startling exercise in what it means to think through the axiomatics of occupation, capture and subjection … Weizman boldly attempts to create an entirely new method to conceptualize the relationship between surfaces, movement, and the tools of war."
—Achille Mbembe

"A wrenching account of the multiple ways in which the land of Palestine has been hollowed out by Israeli occupation. Weizman's stunning combination of words and images is at once a brilliant critique of the politics of space and a searing indictment of colonial rule and dispossession."
—Derek Gregory

"In the decade since [the first edition of Hollow Land] came out, Weizman established the Decolonizing Architecture Art Residency (DAAR) in Beit Sahour, Palestine. The establishment of DAAR and its success highlight the tremendous impact Weizmann's work has had since its release. Hollow Land builds upon increasing attentiveness to urban space and architecture in the social sciences, and its release is to an extent responsible for tremendous growth in this field of study."
—Alex Shams,Journal of Palestinian Studies